Week Ahead – A Trade Truce
July 1, 2019
By Deepta Bolaky

 @DeeptaGOMarkets
Market Overview
Last week was revolved around the G20 summit whereby major world leaders were supposed to meet to discuss global economic challenges. All eyes were on President Trump and Xi meeting, but the focus switch to the surprising and last-minute meeting in North Korea.
Week Ahead
The week will kick-start with the significant takeaways from the G20 summit and the meeting between President Trump and the North Korean leader, Kim Jong-Un. It will be a busy calendar with key economic data releases.
G20 Summit – A Trade Truce 
As widely expected, the G20 summit ended with a trade truce between the US and China. The US President took a softer approach and allowed American firms to sell technology to Huawei.
"US companies can sell their equipment to Huawei," Mr Trump told reporters in Osaka, hours after sealing a tariff truce with Chinese President Xi Jinping. 
There were a few other positive comments that will be key in driving risk sentiment this week. Both parties agreed to a new ceasefire and to resume trade talks. China also promised to buy a "tremendous" amount of US farm products.
Despite the deep concerns on the US-China relationship and the lack of details of the trade talks at the Summit, there were enough optimistic comments that will help stocks and other risky assets to benefit from a short-term relief rally.
Futures of the S&P500 climbed by 1% on trade hopes.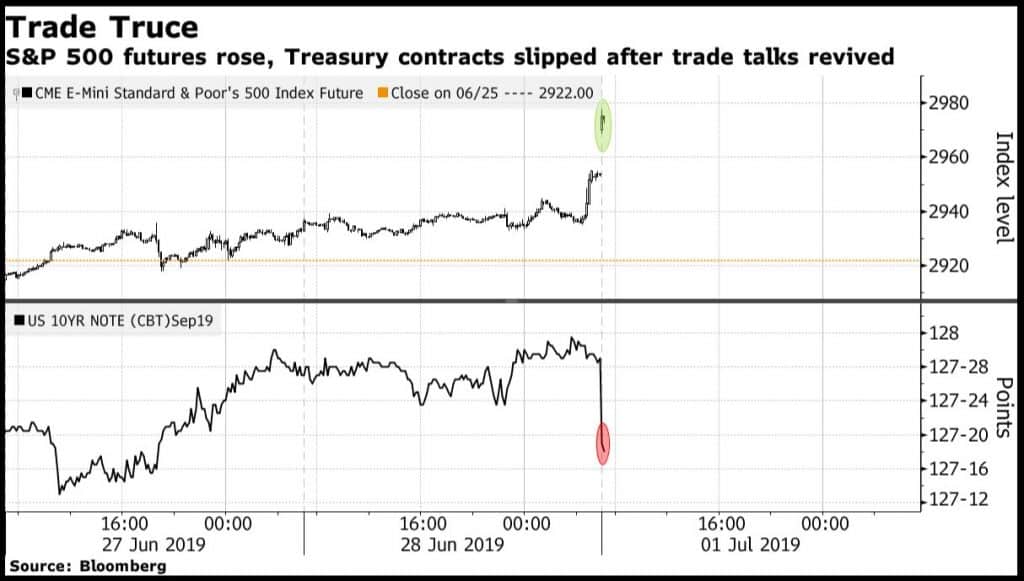 President Trump became the first sitting US President to step into North Korea by walking pass the boundary dividing North and South Korea. 
"We're not looking for speed. We're looking to get it right" – President Trump.
In a symbolic moment of reconciliation, the meeting in North Korea stole the show but did not bode too well with the 2020 Democrat candidates claiming it can merely be a "Photo Ops" with no clear focus, mission or goals. 
The Reserve Bank of Australia (RBA) 
The Reserve Bank of Australia is highly expected to cut the interest rate from 1.25% to 1.0% on Tuesday. If the RBA cut rate this July, it will be its first back-to-back interest rate cut since 2012, and it will also mark a new record low at 1%. We note that Governor Lowe hinted at further rate cuts stating it is unrealistic to think that a single rate cut will stimulate economic growth. 
The Aussie dollar is poised for a challenging week. Bolstered by a trade truce, Chinese PMI figures (Non-manufacturing and NBS Manufacturing PMI) dented some optimism for Aussie traders. As of writing, the Caixin PMI figures were scheduled to be released which could provide fresh trading opportunities ahead of the RBA's interest rate decision tomorrow. 
The Aussie dollar was trading at a high of 70.30 US cents before retreating to 70.10 US cents. 
Other notable events for Australia will be HIA New Home Sales, Building Permits, Trade Balance, Exports, Retail Sales, AiG Performance of Construction Index. 
OPEC Meeting 
Oil traders were focused on the G20 summit and the OPEC meeting given the recent rout in oil prices. Since the summit ended on a trade truce, oil prices gapped on trade optimism and the decision of Russia to extend supply cuts for another six to nine months ahead of the OPEC meeting.
OPEC meeting with start on Monday with the Joint Ministerial Monitoring Committee and the Meeting of the OPEC Conference. Tuesday will see the OPEC and Non-OPEC Ministerial Meeting.
WTI and Brent Crude rose by more than $1 on Monday to trade in the vicinity of $59.58 and $65.80 respectively.
Purchasers Manager's Index (PMIs) 
We will kick the month with a series of PMI figures for major economies which will provide fresh insights on the health of the global economy.
Manufacturing PMI will dominate the start of the week while the focus will switch to services PMI as from mid-week. 
Nonfarm Payrolls
Friday has the potential to be a volatile day as the US investors will return from Thursday's Independence Day with the release of the Nonfarm Payrolls and employment data in Canada.
Non-Farm Payrolls increased only by 75K compared to the 185K expected in May, which increased interest rate cuts expectations. However, last week, Fed speeches were less dovish than anticipated which forced investors to reassess the series of rate cuts outlook. A second round of disappointing in the payrolls number can rose expectations again.
The forecast is an increase of 158K for Non-Farm payrolls for the month of June. Any significant deviations will raise expectations of further rate cuts.
Tuesday, 02 July 2019
Indicative Index Dividends
Dividends are in Points
ASX200
WS30
US500
US2000
NDX100
CAC40
STOXX50
0
0
0.115
0.034
0.885
0
0
ESP35
ITA40
FTSE100
DAX30
HK50
JP225
INDIA50
0
0
0
0
113.809
0
0
Disclaimer: Articles and videos from GO Markets analysts are based on their independent analysis. Views expressed are of their own and of a 'general' nature. Advice (if any) are not based on the reader's personal objectives, financial situation or needs.  Readers should, therefore, consider how appropriate the advice (if any) is to their objectives, financial situation and needs, before acting on the advice.