Gold Is Being Liquidated
March 18, 2020
By Deepta Bolaky

 @DeeptaGOMarkets
Liquidity Crisis
High levels of liquidity happen when there is both supply and demand for an asset, meaning transactions can take place easily. A market is considered to be liquid if it can absorb liquidity trades with significant changes in price.
A liquidity crisis is, therefore, an acute shortage or drying up of liquidity. In simple terms, it occurs when there is a simultaneous increase in demand and a decrease in the supply of liquidity across many financial institutions or businesses.
As the impact of the coronavirus has rattles markets, global central bankers and governments are ramping up efforts to address liquidity issues across markets.
Gold – A Highly Liquid Asset
In times of uncertainties, investors generally seek safety with traditional haven assets like Gold.
Why is Gold also selling off?
Gold is set apart as it has a feature of a liquid asset just like cash. Investors are on the hunt for liquidity which is prompting the gold market sell-off. An environment of thin liquidity and high volatility is forcing investors to unlock capital in gold to fulfil liquidity requirements. Gold was seen outperforming this year which makes it a profitable asset- prompting investors to take profit.
As the turmoil in global stocks intensifies, investors are looking for ways to cash in to meet margin calls.
At the same time, the safe-haven status of the gold is being hammered by a stronger US dollar. Despite the Fed's bold emergency rate cuts, the greenback made an impressive comeback against its peers. Another wave of global easing hits markets, making the US dollar the preferred choice compared to other major currencies. The unusual tandem between the US dollar and Gold seen since the beginning of the year seems to have also faltered at the start of March.
Gold has recently lost some of its haven appeal as investors search for liquidity, but it has remained around elevated levels seen in the past 12 months. On Tuesday, reports of a big stimulus package of more by $1 trillion have helped the gold to rebound slightly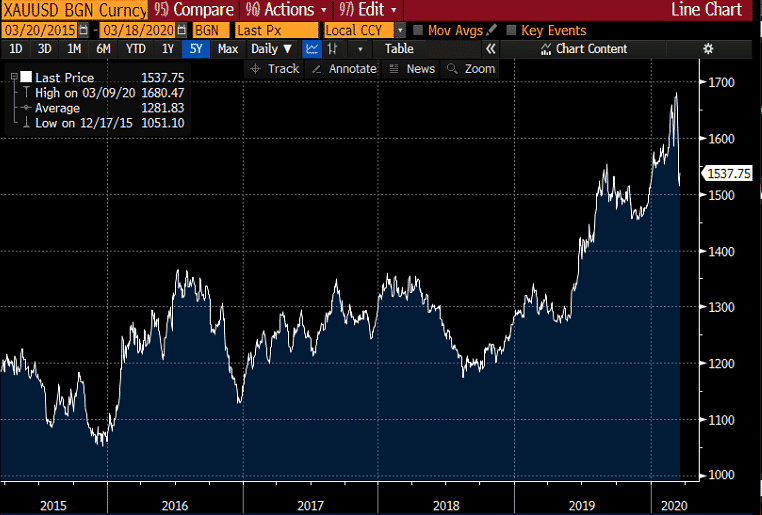 Source: Bloomberg Terminal
Gold Stocks
Gold is a victim of the sell-off because of its outperformance and liquidity features which are beneficial to investors during times of financial crisis.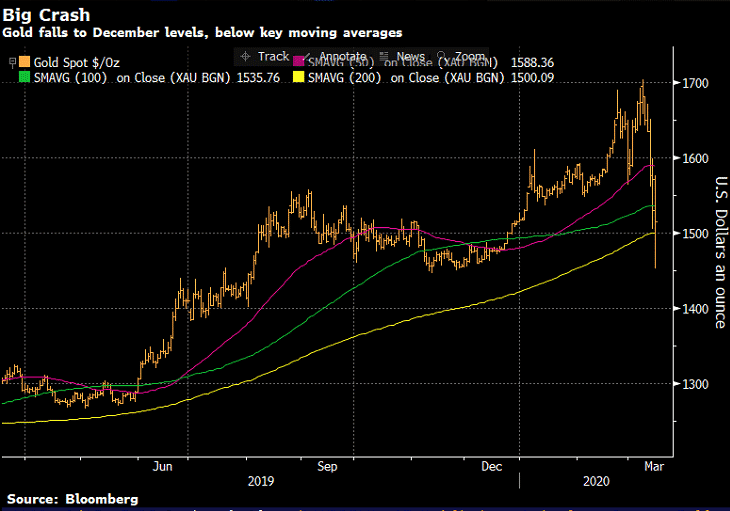 However, gold miners' stocks have the potential to rally in anticipation that the price of precious metals will go up once the markets stabilise. In the Australian share market, the rebound on Tuesday was mostly driven by the gold mining stocks, which surged by more than 15% despite a fall in gold price.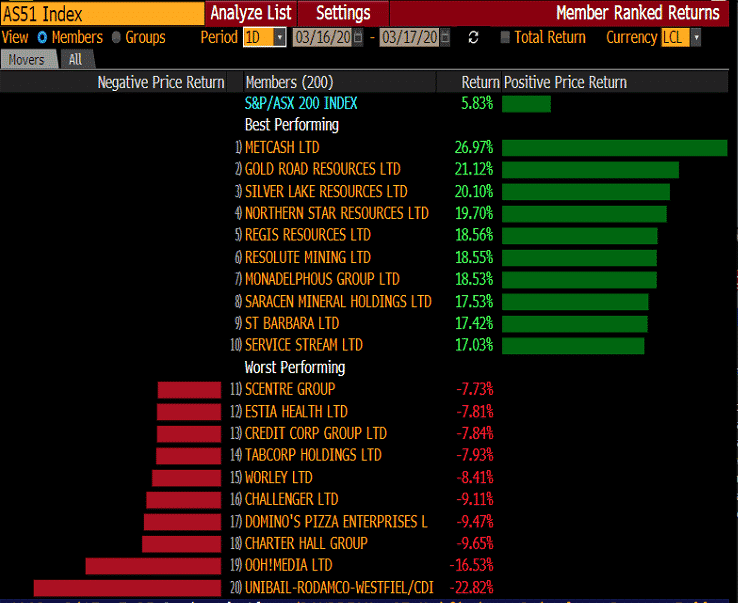 Source: Bloomberg Terminal
It is therefore not uncommon for gold to act as a source of liquidity at the start of a liquidity crisis. As investors are convinced that central banks' intervention measures like rate cuts and quantitative easing will inject enough liquidity in the financial market, Gold will likely find buyers.
By Deepta Bolaky

 @DeeptaGOMarkets
Disclaimer: Articles and videos from GO Markets analysts are based on their independent analysis. Views expressed are of their own and of a 'general' nature. Advice (if any) are not based on the reader's personal objectives, financial situation or needs.  Readers should, therefore, consider how appropriate the advice (if any) is to their objectives, financial situation and needs, before acting on the advice.
About GO Markets
GO Markets was established in Australia in 2006 as a provider of online CFD trading services. For over a decade, we have positioned ourselves as a firmly trusted and leading global regulated CFD provider. Traders can access more than 250 tradeable CFD instruments including Forex, Shares, Indices and Commodities.
Follow us on Twitter, Facebook and LinkedIn to stay up to date with the latest market news and analysis.
Next: The Perfect Storm Brewing in the Oil Market
Previous: US Dollar and Gold in Tandem