The Perfect Storm Brewing in the Oil Market
March 27, 2020
By Deepta Bolaky

 @DeeptaGOMarkets
The Perfect Storm Brewing in the Oil Market
The oil and gas industry has been undergoing significant challenges due to the structural shift within the industry. A pandemic-induced economic downturn and an oil price war have now added another layer of uncertainty to the oil markets.
Tensions between Saudi Arabia and Russia have disrupted the stability that the oil industry requires to be able to remain afloat during such difficult times.
Demand and Supply Shock
The oil market is facing both a demand and supply shock, simultaneously. In other words, there is a flood of supply at a moment of diminishing demand.
Demand: Different forms of lockdowns across the globe due to the pandemic means empty roads, grounded aircraft, plunging car sales and disrupted supply chains. These industries are key consumers of oil.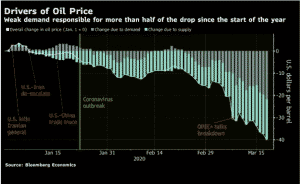 Supply: An oil price war between Saudi Arabia and Russia was the tip of the iceberg and triggered the flash crash in March. The oil kingdom raised output to full capacity to fight a price war with its rivals, destabilising the oil market at a critical time during the coronavirus pandemic.
Tensions among oil producers are not uncommon but crude oil prices experienced steep declines, due to weak fundamentals and geopolitical tensions.
Multi-year Low
The flash crash in March has nearly halved crude oil prices. During the month, trading was highly volatile – WTI and Brent Crude traded more than 45% lower to a multi-year low at $20.50 and $24.
Stimulus Packages Brought Some Stability
The bold actions from central bankers and governments to implement new and massive monetary and fiscal packages to stem the downturn helped the oil market from a temporary bottom. As of writing, WTI and Brent Crude have stabilised and have consolidated around the $22 and $26 levels, respectively.
USOUSD AND UKOUSD (Monthly Chart)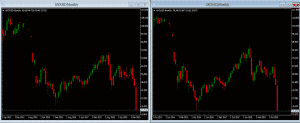 Source: GO MT4
An Oil Storage Problem
Global activities are slowing down on a massive scale, sapping demand while big producers like Saudi Arabia and Russia tugged in a price war are raising productions. At this rate, giant oil producers are set to run out of storage capacities within a few weeks or months.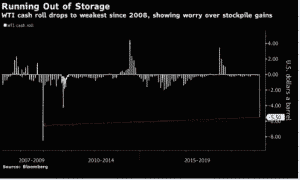 The US and Saudi Arabia Negotiations
The oil market had a breather this week. Risk sentiment has improved, and it was also reported that the US and Saudi Arabia are in discussions to end the price war and bring some stability to the oil markets. Investors will rely on political intervention to halt the freefall.
An oil storage problem, higher storage costs, faltering demand and a significant rise in production are creating a perfect storm for the oil market.
By Deepta Bolaky

 @DeeptaGOMarkets
Disclaimer: Articles and videos from GO Markets analysts are based on their independent analysis. Views expressed are of their own and of a 'general' nature. Advice (if any) are not based on the reader's personal objectives, financial situation or needs.  Readers should, therefore, consider how appropriate the advice (if any) is to their objectives, financial situation and needs, before acting on the advice.
About GO Markets
GO Markets was established in Australia in 2006 as a provider of online CFD trading services. For over a decade, we have positioned ourselves as a firmly trusted and leading global regulated CFD provider. Traders can access more than 250 tradeable CFD instruments including Forex, Shares, Indices and Commodities.
Follow us on Twitter, Facebook and LinkedIn to stay up to date with the latest market news and analysis.
Next: First Quarter: Crisis, Volatility, and Opportunities
Previous: Gold Is Being Liquidated