Overnight on Wall Street: 15 June 2021
15 June 2021
Equity Markets
US equity markets had another mixed fairly calm session as investors await more key economic data due tonight, which will offer looks at both the strength of the consumer and extent of price increases across the supply chain.
Dow Jones down 85.85 (-0.25%)
NASDAQ up 104.72 (0.74%)
S&P 500 up 7.71 (0.18%)
Russell 2000 down 9.66 (-0.41%)
With a growing expectation that the Fed will retain its easy-money policies at this week's meeting, Tech stocks that benefit from a low interest environment again outperformed, lifting the NASDAQ and S&P 500 to again set all-time highs.
Economic Announcements – FX
The US is scheduled to release May retail sales tonight which is expected to show a monthly decline for the first time since February,  after a stimulus-boosted surge in consumer spending earlier this year.
On the inflation side, the PPI release tonight is anticipated to show a 6.2% year-on-year increase, matching April's near 30-year high as supply shortages and resurgent demand push prices higher.
The head of the Bank of England, Governor Bailey is scheduled to speak at an online conference, traders will attempt to decipher interest rate clues and there may be volatility in the GBP, though nothing of consequence is anticipated from the speech.
Cryptocurrencies
Bitcoin had a welcome break from negative headlines as Elon Musk hinted that Tesla may accept Bitcoin in the future if mining of the coin could move to the majority of clean energy. Bitcoin surged 13% on this, just above the psychologically important $40k level where it has consolidated.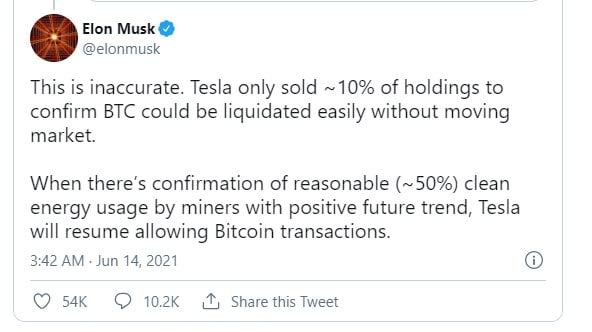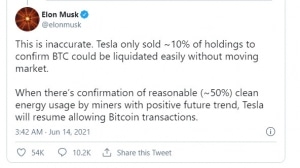 Source: Twitter
Bitcoin also got a boost from legendary investor Paul Tudor Jones who touted the world's largest cryptocurrency as a "reliable" inflation hedge and "a way to invest in certainty" despite the coin's extreme volatility and recent crash.
Wednesday, 16 June 2021 – Indicative Index Dividends
Dividends are in Points
| Symbol | Dividend |
| --- | --- |
| ASX200 | 0 |
| WS30 | 0 |
| US500 | 0 |
| US2000 | 0.02 |
| NDX100 | 0 |
| CAC40 | 0 |
| STOXX50 | 0 |
| ESP35 | 0 |
| ITA40 | 0 |
| FTSE100 | 0 |
| DAX30 | 0 |
| HK50 | 0.053 |
| JP225 | 0 |
| INDIA50 | 0 |
Next Article
Equity Markets US markets were mixed on Thursday night as repositioning continued after the Feds hawkish statement earlier in the day. The NASDAQ closed within striking distance of all-time highs while the Dow posted a fourth straight session of losses. Source: CNBC.com Technology stocks rallied during the session as traders piled back i...
Read More >
Previous Article
Equity Markets US equity markets had a volatile session last night, selling off on news of massive tech outages which raised fears of a coordinated c...
Read More >