Overnight on Wall Street: 8 June 2021
8 June 2021
Equity Markets
US equity markets ended mixed on Monday, with the upcoming CPI figure this week investors weighed the prospects of higher inflation and rates against Friday's below expectation but still solid print on U.S. employment.
Dow Jones down 126 (-0.36%)
NASDAQ up 20 (0.49%)
S&P 500 down 6 (-0.06%)
Russell 2000 up 32 (1.43%)
Growth stocks in the Russell 2000 bounced back to outperform the bigger index listed cyclical stocks, Tech stocks also outperformed despite news that the G-7 agreed to a minimum corporate tax rate of 15%, more than some big cap tech companies now pay.
Economic Announcements – FX
No top-line scheduled news announcements were released overnight, this evening we do have the German ZEW Economic Sentiment released. This figure is normally seen as a second-line figure with a modest effect on markets but with the market apprehension ahead of the EBC meeting on Thursday, we might see European markets having a broader reaction.
Expectations are for the German ZEW Current situation to stay in contraction, but move substantially higher to -28.0 from -40.1 in the prior reading. With the strong consensus that we'll see a substantial improvement in the data, there is a higher risk of disappointment and will likely see a dip in the Euro if the figure misses.
Bitcoin
Bitcoin slid lower last night, again on negative headlines after former President Trump appeared on Fox business and gave his negative view of the token.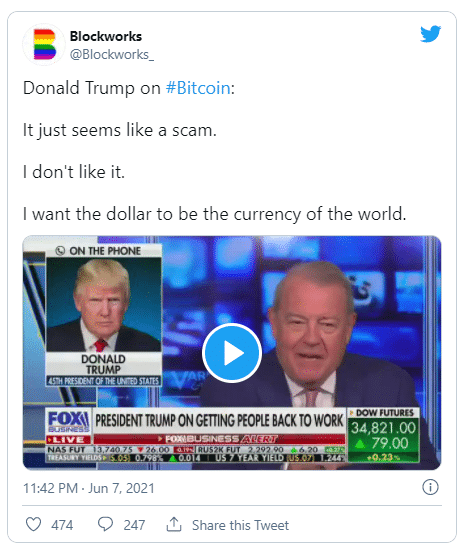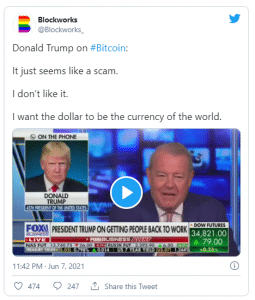 Source: Twitter
Adding to this was a report the US DOJ had recovered a large portion of the ransom paid in Bitcoin that was paid to hackers during a ransomware attack on a US pipeline. On the back of this, the US Justice Department has vowed to crack down on all types of federal cyber crimes, raising fears that bitcoin will be targeted with regulatory action.
Wednesday, 9 June 2021 – Indicative Index Dividends
Dividends are in Points
| Symbol | Dividend |
| --- | --- |
| ASX200 | 0 |
| WS30 | 5.724 |
| US500 | 0.169 |
| US2000 | 0.118 |
| NDX100 | 0 |
| CAC40 | 0 |
| STOXX50 | 0 |
| ESP35 | 0 |
| ITA40 | 0 |
| FTSE100 | 0 |
| DAX30 | 0 |
| HK50 | 0 |
| JP225 | 0 |
| INDIA50 | 0 |
Next Article
Equity Markets US equity markets had a volatile session last night, selling off on news of massive tech outages which raised fears of a coordinated cyber-attack, only to bounce back to end the session near the flat line. Dow Jones down 30 (-0.09%) NASDAQ up 43 (0.31%) S&P 500 up 0.74 (0.02%) Russell 2000 up 24.5 (1.06%) US mar...
Read More >
Previous Article
Equity Markets US markets dipped on Thursday as investors pondered better-than-expected figures regarding the labour market, as well as a report th...
Read More >