Overnight on Wall Street: 9 June 2021
9 June 2021
Equity Markets
US equity markets had a volatile session last night, selling off on news of massive tech outages which raised fears of a coordinated cyber-attack, only to bounce back to end the session near the flat line.
Dow Jones down 30 (-0.09%)
NASDAQ up 43 (0.31%)
S&P 500 up 0.74 (0.02%)
Russell 2000 up 24.5 (1.06%)
US markets have been treading water near all-time highs as investors await key inflation data out of the US on Thursday. The Fed's narrative of inflation being "transitory" will be put to the test and any reading outside the expected will affect perceptions of when the Federal Reserve is likely to start discussing tapering asset purchases.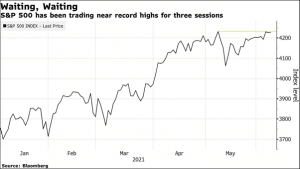 Source: Bloomberg
Economic Announcements – FX
Inflation figures will be released from China today with CPI figures released late morning AEST an elevated reading of 1.6% y/y is expected, a significant increase from the 0.9% figure released in May.
Overnight the Bank of Canada will be releasing their rate decision and accompanying statement where Investors will be looking for fresh hints on its next move to reduce emergency levels of monetary stimulus. There is a risk the BOC will seek to dampen rate rise expectations this week after a surging CAD and disappointing recent employment figures.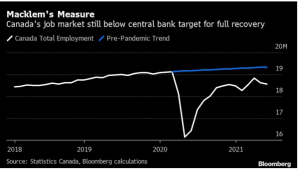 Source: Bloomberg
Cryptocurrencies
Bitcoin accelerated its slide to fall below the $31,000 level overnight. The world's largest cryptocurrency then recovered slightly, trading at 33k currently.
Alt coins also took a hit with ether falling about 8% to $2,499.28 and XRP dropping over 7%.
This comes on the back of fears of increased regulatory scrutiny and doubts in the security of Cryptos after law enforcement in the US was able to access a bitcoin wallet and recover over $2M in a recent ransom payment related to the recent cyber-attack on Colonial pipeline.
Thursday, 10 June 2021 – Indicative Index Dividends
Dividends are in Points
| Symbol | Dividend |
| --- | --- |
| ASX200 | 0.082 |
| WS30 | 0 |
| US500 | 0.266 |
| US2000 | 0.218 |
| NDX100 | 0.425 |
| CAC40 | 0.766 |
| STOXX50 | 0.41 |
| ESP35 | 1.02 |
| ITA40 | 0 |
| FTSE100 | 1.431 |
| DAX30 | 0 |
| HK50 | 0 |
| JP225 | 0 |
| INDIA50 | 2.072 |
Next Article
Equity Markets US equity markets had another mixed fairly calm session as investors await more key economic data due tonight, which will offer looks at both the strength of the consumer and extent of price increases across the supply chain. Dow Jones down 85.85 (-0.25%) NASDAQ up 104.72 (0.74%) S&P 500 up 7.71 (0.18%) Russell 200...
Read More >
Previous Article
Equity Markets US equity markets ended mixed on Monday, with the upcoming CPI figure this week investors weighed the prospects of higher inflation an...
Read More >