The World Health Organisation declared the COVID-19 a global pandemic which brought another round of extreme volatility in the markets. Wall Street witnessed another dreadful day and was in a sea of red as a lack of details on the stimulus program dampened risk sentiment.
Widespread fears caused major equity benchmarks to fall into bear market territories. The drumbeat of bad news is resonating in the financial markets while investors await for actions from government and central bankers to shore the global economy.
World Equity Indices (% Change)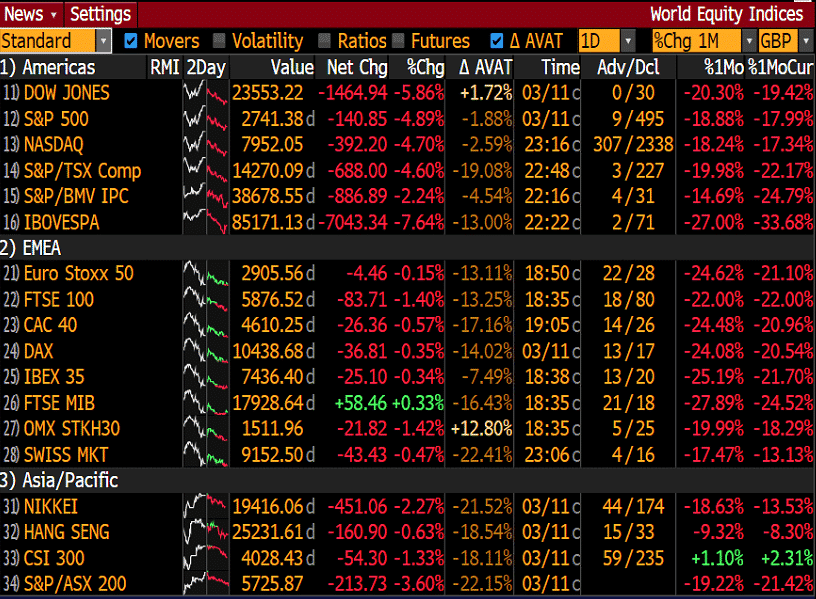 Source: Blomberg Terminal
Dow Jones Average Industrial lost 1,465 points or 5.9% to 23,553.
S&P500 fell by 141 points or 4.9% at 2,741.
Nasdaq Composite ended 392 points or 4.7% lower at 7,952.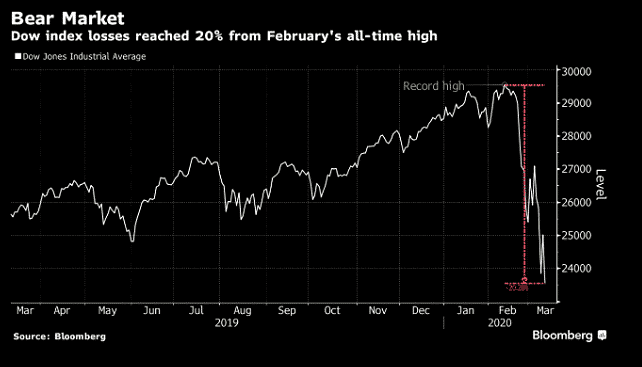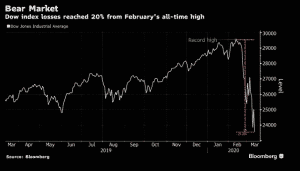 Source: Bloomberg Terminal
Currency Markets
In the FX market, major currencies were weaker against the US dollar. As the attention remains primarily on the widespread of the virus, traders are piling into safe-haven assets in anticipation of stimulus intervention in the markets.
The Japanese Yen and the Swiss franc were stronger against the greenback backed by haven demands.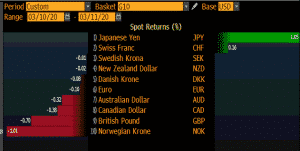 Source: Bloomberg Terminal
The Bank of England joined its peers in slashing interest rates and made a 50 bps emergency interest rate cut. The GBPUSD pair fell below the 1.29 level as traders were unimpressed by the rate cut and the proposed spending.
GBPUSD (Hourly Chart)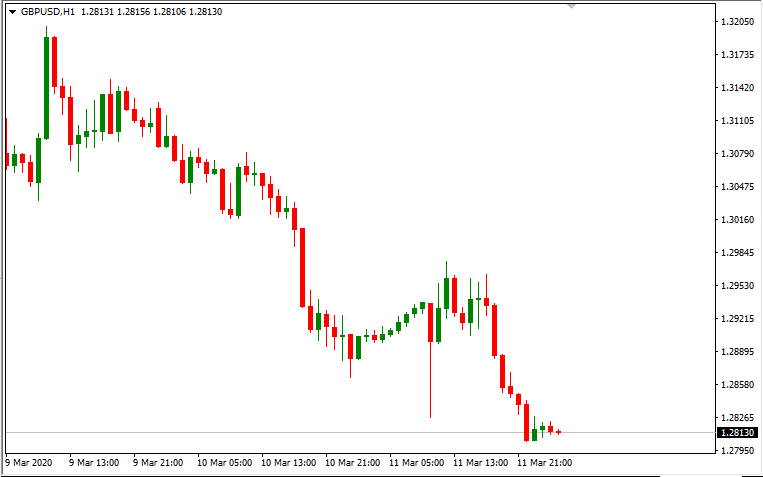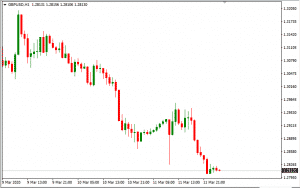 Source: GOMT4
Oil & Gold
Oil market remained under pressure due to a demand and supply shock combined with a price war between Russia and Saudi Arabia. Both parties also plan to increase oil production capacity. As of writing, WTI and Brent Crude has consolidated in the vicinity of  $33 and $36 respectively. Traders will be watching closely for signs or attempts to mediate a truce in the coming days for fresh trading impetus.
UKOUSD and USOUSD (Hourly Chart)



Source: GO MT4
Despite the risk-off environment, Gold struggled to edge higher dragged by a stronger US dollar. Given the current uncertainties, the downside might be limited unless the hopes of stimulus matched expectations.
Any meaningful pullback might still be seen as a buying opportunity. However, traders need to continue to monitor developments on the virus to gauge if there is any improvement.
XAUUSD (Weekly Chart)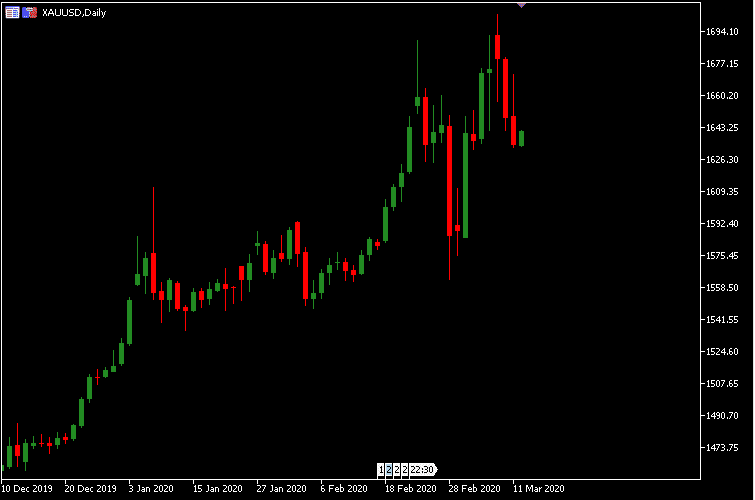 Source: Bloomberg Terminal 
Key Upcoming Events
Consumer Inflation Expectations (Australia)
Foreign Direct Investment (China)
Industrial Production, ECB Interest Rate Decision, Monetary Policy Statement and Press Conference (Eurozone)
Westpac Consumer Survey and Business NZ PMI (New Zealand)
Friday, 13 March 2020 
Indicative Index Dividends
Dividends are in Points
ASX200
WS30
US500
US2000
NDX100
CAC40
STOXX50
0.584
14.243
0.83
0.278
0.104
0
0
ESP35
ITA40
FTSE100
DAX30
HK50
JP225
INDIA50
0
0
0
0
0
0
0

Next Article
Bear Market – Where's the Floor? In such plunging markets, we either tend to remember one of the most quoted Warren Buffet-isms "Widespread Fear is Your Friend, Personal Fear is Your Enemy" or see "Buying opportunities as catching a falling knife". Investors are in a state of shock rattled by the drumbeat of bad news. It is hard to...
Read More >
Previous Article
Equity Markets After a dreadful Monday, the stock market recovered a semblance of normality as some governments rushed in to support the turmoil i...
Read More >