Overnight on Wall Street: Thursday 13 May 2021
13 May 2021
Equity Markets
The Dow Jones suffered its worst day since January and worst three-day streak in 7 months.
Dow Jones down 681 (1.99%)
NASDAQ down 357 (2.67%)
S&P 500 down 89 (2.14%)
Russell 2000 down 72 (3.26%)
High growth and tech stocks with inflated PE figures were hard hit as investors questioned their valuations on the back of these higher-than-expected inflation numbers.
Economic Announcements
US CPI figures showed that the consumer price index rose 4.2% from a year ago, compared with average economists' estimates of a 3.6% increase.
This was the highest rate in 13 years, resurrecting fears that the Federal Reserve may need to bring forward tapering of its easy-money policies.
Tonight, we have what will be a closely watched 10-year bond auction after yesterday's inflation figures. The benchmark 10-year yield spiked to over 1.7%, its highest level since March after the CPI release and traders will be paying close attention to tonight's auction to see how the bond market reacts.
FX Markets
Unsurprisingly, the US dollar surged after the CPI figures were released with the chance of a rate tightening cycle starting sooner than previously expected.
AUDUSD had its biggest down session in 6 weeks as a surging US dollar and rotation out of risk on currencies pushed the pair back down into it 0.76 – 0.78 range where it has spent most of 2021.
FX traders will be looking ahead to tonight bond auction for further clues on the US dollar short term direction.
Cryptos
An Elon Musk tweet caused a steep decline in Bitcoin (BTCUSD) overnight, announcing that Tesla (TSLA) would stop accepting it for car purchases due to environmental concerns.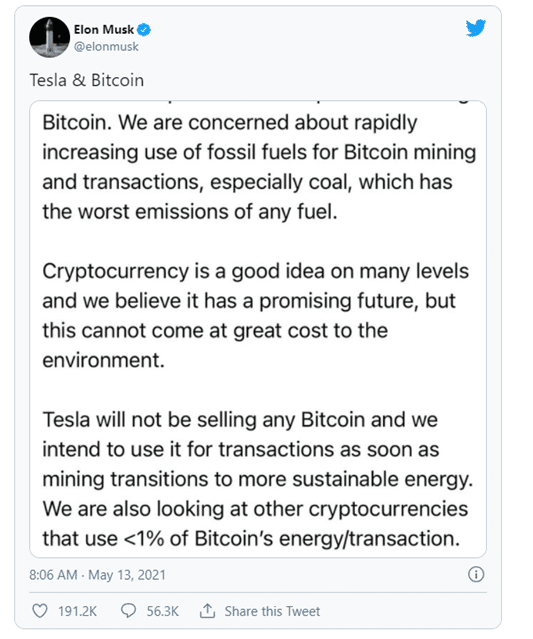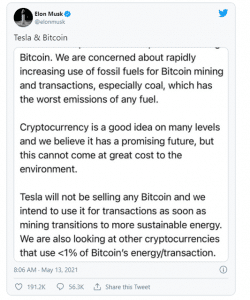 The whole crypto complex was dragged down with BTC. Ethereum which has been the strongest performing major altcoin recently had its biggest intraday drop since February before dip buyers appeared pushing its price back up to near $4000 per token at the time of writing.
Friday, 14 May 2021 – Indicative Index Dividends
Dividends are in Points
| Symbol | Dividend |
| --- | --- |
| ASX200 | 0.058 |
| WS30 | 11.58 |
| US500 | 0.294 |
| US2000 | 0.151 |
| NDX100 | 1.358 |
| CAC40 | 0.386 |
| STOXX50 | 0 |
| ESP35 | 0.495 |
| ITA40 | 0 |
| FTSE100 | 0 |
| DAX30 | 0 |
| HK50 | 0 |
| JP225 | 0 |
| INDIA50 | 0 |
Next Article
Equity Markets US equity markets experienced considerable volatility last week as the Dow and S&P 500 both saw all-time highs but finished the week down -1.1% -1.4% respectively.  US CPI figures coming in much higher than expected had investors reassessing the Fed's policy path given the unexpectedly high rise in inflation. Looking to...
Read More >
Previous Article
The Aussie dollar is on the rise again after the tumble taken after China decided to halt economic dialogues. Apart from becoming a commodity currency...
Read More >