Overnight on Wall Street: Wednesday 26 May 2021
26 May 2021
Equity Markets
US equity markets struggled to find direction overnight. Stocks edged higher early in the session, but ultimately closed modestly lower in a choppy session.
Dow Jones down 81 (-0.24%)
NASDAQ down 4 (-0.03%)
S&P 500 down 9 (-0.21%)
Russell 2000 down 21 (-0.97%)
Softer economic data weighed on U.S. equities as signs of a slowing economic recovery and rising inflation gave investors pause as they consider the outlook of the post-pandemic global market recovery.
Economic Announcements – FX
Overnight comments from Federal Reserve members saw Treasury yields decline as they repeated recent comments that they believed that price pressures would largely be "transitory". The US Dollar Index traded at its lowest level since early January as the yield on 10-year Treasuries declined four basis points to 1.56%.
Today the only major announcement is the Royal Bank of New Zealand's Monetary policy statement and rate decision.
While the RBNZ is expected to leave all policy settings unchanged, along with the Bank of Canada (who tapered asset purchases last month), the RBNZ is seen as another central bank that could reduce stimulus this year as strong economic figures continue to point to a rapid recovery.
FX traders will be watching the accompanying statement and economic projections (which are likely to be upgraded) for any clues on when the RBNZ plans to start winding back its QE program, a hawkish statement will likely see NZD push higher, and to a lesser extent the AUD. The Commitment of Traders positioning on NZD/USD is showing institutional traders predicting a more hawkish than expected outcome.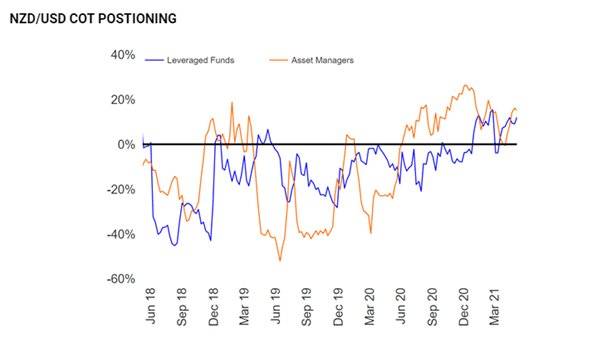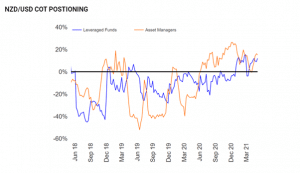 Source: Refinitiv
Gold
Gold rose $20 per ounce overnight erasing its 2021 losses as inflationary pressures and weak US home sales figures had investors jumping in as an inflation hedge and safe-haven asset.
After a steep drop in Q1 2021 gold is on the way to its biggest monthly gain since July 2020, with a declining US dollar and a drop in treasury yields also boosting the precious metal.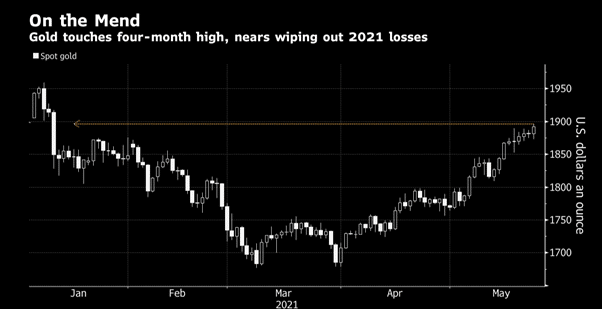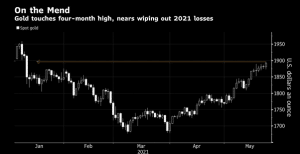 Source: Bloomberg
Thursday, 27 May 2021 – Indicative Index Dividends
Dividends are in Points
| Symbol | Dividend |
| --- | --- |
| ASX200 | 0.581 |
| WS30 | 4.606 |
| US500 | 0.318 |
| US2000 | 0.23 |
| NDX100 | 0.749 |
| CAC40 | 0 |
| STOXX50 | 0 |
| ESP35 | 0 |
| ITA40 | 0 |
| FTSE100 | 2.669 |
| DAX30 | 0 |
| HK50 | 44.643 |
| JP225 | 0 |
| INDIA50 | 0 |
Next Article
After dipping early in the month as inflation fears resurfaced, markets bounced back to broadly rally, with US and Australian equity markets touching on all-time highs. Global Equities Major world indices rallied strongly in May. Gains were seen across the US, EU/UK, and Asia/pacific as central banks struck a mostly dovish tone and economic rec...
Read More >
Previous Article
Equity Markets US equity markets are coming off a mixed week. The S&P 500 registered a second straight down week for the first time since Februar...
Read More >