Week Ahead: Big tech reports and the Fed back in action
26 April 2021
Equity Markets
US stocks bounced back with a broad rally, the S&P 500 set an intra-session all-time high as investors returned to buy the dip after Thursday's tax increase inspired sell-off.
Earnings on Friday included Schlumberger Limited (SLB.NYSE) who beat Q1 earnings expectations and gave positive forward guidance on growth for the second half of the year, the stock rallying almost 2% on the back of this.
Looking ahead, a busy week in US corporate earnings is ahead, starting tonight with Tesla due to a report, option pricing shows traders are expecting a move of 7.2% in either direction on the Tesla figures.
Other big Tech names include Apple (AAPL), Facebook (FB), Alphabet (GOOG) and Microsoft (MSFT), volatility is to be expected in the NASDAQ index as these earnings reports come in.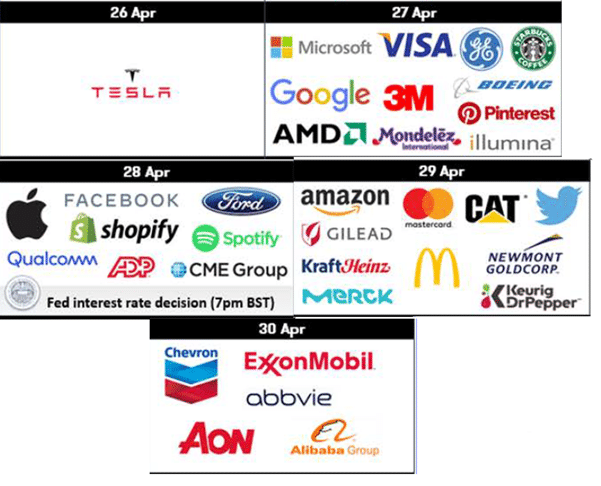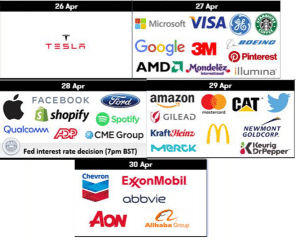 Source: Interactive Investor
Forex Markets – The week's economic announcements
After a quiet week in US figures, the focus will return to the Federal Reserve meeting this Wednesday, with analysts expecting the Fed to reiterate that they are in no hurry to withdraw support even as the U.S. economy rebounds.
Here are some comments from Goldman Sachs economists:
"[W]e expect the April FOMC statement to feature a more upbeat description of recent economic activity. But beyond that, next week's meeting should be uneventful. …We expect the FOMC to start hinting at tapering in the second half of this year and to begin tapering in early 2022. Our working assumption is that the pace of tapering will be $15bn per meeting, in which case it would take eight meetings or one year to complete."
And from Merrill Lynch economists:
"At the April FOMC meeting, we expect Chair Powell and the FOMC to give a more positive view of the economy but reiterate that risks remain from the virus and further progress is needed before a shift in policy."
Tuesday we see the Bank of Japan releases its monetary policy, no change in current policy is expected and should have a muted effect on the Yen.
Wednesday has the Australian Q1 CPI figure released. It is forecast to match the previous quarter figure of 0.9%, any surprise to the upside could pressure the RBA to look to follow the Bank of Canada and revise forward guidance on when they expect a rate tightening cycle to start.
Thursday the US Q1 GDP figures are released, this will give an important look at how the US economy is recovering as vaccine rollouts reach a peak in the US.
Commodities
Oil
With US crude prices stalling around $62 per barrel Oil traders will be watching this week's OPEC-JMMC meeting scheduled for Wednesday.
OPEC+ is widely expected not to make any material changes to the plans to ease the production cuts over the next three months, OPEC+ decided on April 1 to gradually return over 1 million barrels per day (bpd) on the market between May and July.
One factor that could see these plans change is the COVID surge that is paralysing India currently. India is the world's third-largest oil consumer and was meant to be a major driver of oil's demand recovery as economies reopened.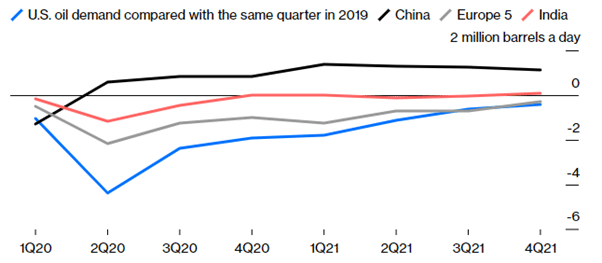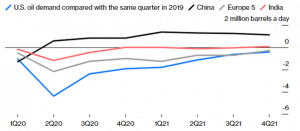 Tuesday, 27 April 2021 
Indicative Index Dividends
Dividends are in Points
ASX200
WS30
US500
US2000
NDX100
CAC40
STOXX50
0
0
0.02
0.001
0
4.966
1.344
ESP35
ITA40
FTSE100
DAX30
HK50
JP225
INDIA50
7.355
0
0
0
0
0
0

Next Article
It's set to be busy one over in the United States this week with some of the world's largest companies, including Apple, Microsoft, Facebook and Alphabet due to report their Q1 earnings. Up first – Tesla. World's largest electric vehicle maker reported their results after the closing bell on Monday. Elon Musk's Tesla reported total rev...
Read More >
Previous Article
Equity markets US markets dropped last night, reversing what was looking like a positive session to finish as the worst single session in the month...
Read More >