Week Ahead: Equities remain jittery as inflation fears remain, Crypto crashes
24 May 2021
Equity Markets
US equity markets are coming off a mixed week. The S&P 500 registered a second straight down week for the first time since February, while the Dow posted its fourth negative week in five. The NASDAQ gained 0.31% last week after a 4 week losing streak as dip buyers finally appeared to snap up beaten-down tech stocks.
Analysts are expecting another choppy/sideways week ahead in the US with investors still jittery at the prospects of rising inflation during the post-pandemic recovery.
The Australian share market had a roller-coaster week, managing to finish the week slightly up after a mid-week sell-off as mining giants BHP (BHP.AX), RIO (RIO.AX) and Fortescue Metals (FMG.AX) all dipped sharply as the iron ore price continued to drop from its recent all-time highs.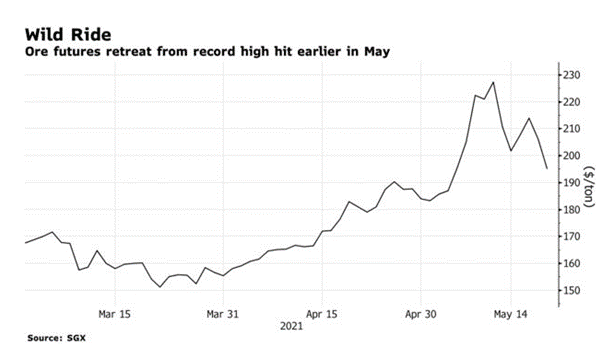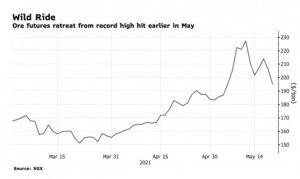 Source: Bloomberg.com
Economic Releases – The Week Ahead
The week ahead will see a handful of key inflation data reports being released in the US. The closest watched will be the April Core PCE Price Index m/m released by the U.S. Bureau of Economic Analysis on Friday. Core PCE is forecasted to have increased by 2.9% in April over last year, if this forecast holds true it would be the biggest increase in more than twenty years and put further pressure on the Fed to address the markets inflation concerns.
Wednesday the Royal Bank of New Zealand (RBNZ) will announce its latest rate decision. No change is in rates is anticipated, but the wording of the accompanying statement will be closely read for clues of potential QE tapering given the strength of the NZ recovery.
Thursday will see the US GDP first-quarter GDP released where a jump to 6.4% is expected, a significant increase from the Q4 2020 miss of 4.1% as relaxed COVID restrictions are expected to see the US economy continuing its recovery.
US figures of note on Thursday are the weekly unemployment claims and pending home sales, both of which will give further clues on the strength of the US economic recovery.
Cryptocurrencies
Cryptocurrencies suffered through a steep decline last week as a slew of seemingly never ending negative headlines battered the crypto complex.
The selloff that begun with an Elon Musk tweet regarding Tesla no longer accepting Bitcoin as a method of payment, accelerated as everyone from Chinese regulators to the Pope weighed in with disparaging comments on Bitcoin and Cryptos in general.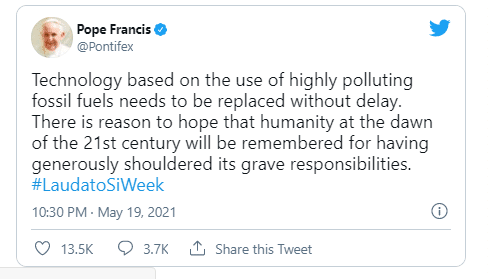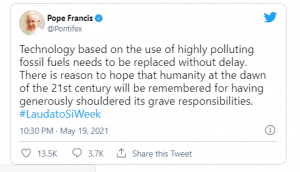 Source: Twitter
This led to cryptos as a whole having the worst week in over 12 months as tracked by the Bloomberg Crypto index.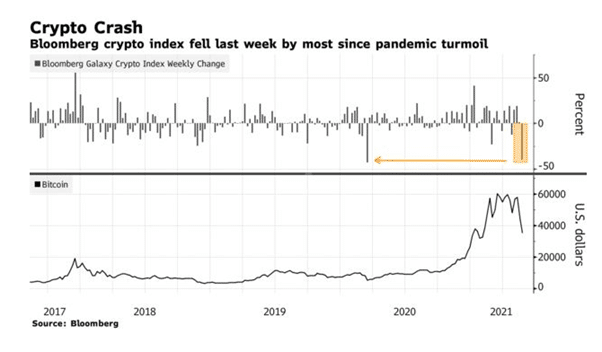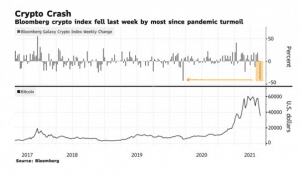 Source: Bloomberg.com
The week ahead will be an important test of the legitimacy of Cryptos as an investment asset class, whether value buyers materialise to support prices or fear and momentum drive them lower.
Tuesday, 25 May 2021 
Indicative Index Dividends
Dividends are in Points
ASX200
WS30
US500
US2000
NDX100
CAC40
STOXX50
0.183
0
0.05
0.016
0.137
3.709
0
ESP35
ITA40
FTSE100
DAX30
HK50
JP225
INDIA50
0
0
0
0
28.642
0
0

Next Article
Equity Markets US equity markets struggled to find direction overnight. Stocks edged higher early in the session, but ultimately closed modestly lower in a choppy session. Dow Jones down 81 (-0.24%) NASDAQ down 4 (-0.03%) S&P 500 down 9 (-0.21%) Russell 2000 down 21 (-0.97%) Softer economic data weighed on U.S. equities as sig...
Read More >
Previous Article
Equity Markets US equity markets logged a third straight day of losses as inflation concerns remained at the centre of investors' focus. Stocks did f...
Read More >