Week Ahead: Traders look to Fed as inflation fears resurface
17 May 2021
Equity Markets
US equity markets experienced considerable volatility last week as the Dow and S&P 500 both saw all-time highs but finished the week down -1.1% -1.4% respectively. 
US CPI figures coming in much higher than expected had investors reassessing the Fed's policy path given the unexpectedly high rise in inflation.
Looking to the week ahead it is likely the market will continue to try to gauge when the Fed will look to shift its policy path as a flurry of FOMC members are due to speak and the minutes from the last Fed meeting are released.
With inflation fears re-stoked we saw the resumption of the rotation trade from growth to value stocks, with the NASDAQ index majorly underperforming the Dow and S&P 500, this is predicted to continue this week as the fundamental forces that were driving this price action remain until further clarification from the Fed is received.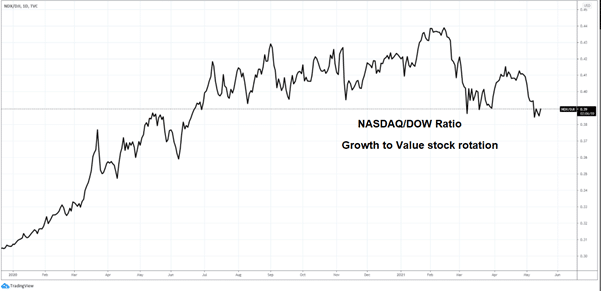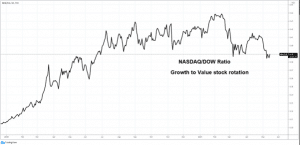 Source: tradingview.com
Australian companies reporting half-year earnings this week are:
Monday 17th
Elders Ltd (ELD.AX)
Incitec Pivot Ltd (IPL.AX)
Tuesday 18th
James Hardie Industries PLC (JHX.AX)
Wednesday 19th
Webjet Ltd (WEB.AX)
Nufarm Ltd (NUF.AX)
Forex Markets – The week's economic announcements
There are a few interesting economic releases scheduled for this week, with new importance being placed on FOMC members to see if there are any clues in the Fed response to the hot inflation figures that came in last week.
Highlights of the week are:
Monday
FOMC Members Speak – With fears of inflation roiling the markets, the scheduled appearance of FOMC members Clarida and Bostic at an online conference hosted by the Federal Reserve Bank of Atlanta takes on renewed importance.
Traders will be trying to dissect any information that could give hints of the Fed's thoughts regarding their policies going forward.
Tuesday
RBA – Monetary Policy Meeting Minutes – Minutes of the May 4th RBA rate decision are due to be released. This will give a more detailed view into the economic conditions that influenced the RBA's rate decision.
Wednesday
UK CPI, Canada CPI
With inflation fears being the driver in market movements for the last few days, we could see some volatility in GBP and CAD if their respective figures follow the US in coming in above expectation.
Any tapering signal would come as a shock to the markets so the pound could jump higher on the news. 
Thursday
Australian Employment Change and the Unemployment Rate
With the last two Australian employment figures coming in well above expectation and the Australian labour market having now recouped 365k full-time jobs off the 400k positions lost in 2020, a more modest figure of 20k new jobs is forecast.
The unemployment rate is expected to remain at 5.6% an impressive recovery from the peak of 7.5% a year ago.
Any big beat to the upside on these figures would put pressure on the RBA to review its forward guidance and would likely see a jump in AUD.
Friday
Friday sees a slew of European figures including German manufacturing, flash GDP, Trade Balance and ECB president Lagarde speaking at a press conference following the Eurogroup Meetings, in Lisbon.
This will be a busy day for the Euro as traders digest the figures whilst juxta positioning with comments from the ECB president, who up till now has remained extremely dovish despite strong data from the EU.
Tuesday, 18 May 2021 
Indicative Index Dividends
Dividends are in Points
ASX200
WS30
US500
US2000
NDX100
CAC40
STOXX50
0
8.488
0.488
0.051
0
4.806
0
ESP35
ITA40
FTSE100
DAX30
HK50
JP225
INDIA50
0
0
0
0
19.326
0
0

Next Article
Equity Markets US equity markets started the week with a modest loss as three of the four major indexes declined. Dow Jones down 54 (0.20%) NASDAQ down 51 (0.38%) S&P 500 down 10.5 (0.25%) Russell 2000 up 2.5 (0.11%) Tech stocks continued their weakness, with Apple (AAPL) and Netflix (NFLX) each down 0.9%. Microsoft (MSFT) dro...
Read More >
Previous Article
Equity Markets The Dow Jones suffered its worst day since January and worst three-day streak in 7 months. Dow Jones down 681 (1.99%) NASDAQ d...
Read More >