The bloodbath continues in the stock market and major equity benchmarks are on the brink of bearish territory. The massive plunge in the markets revived fears of the "Black Monday" meltdown in 1987.
World Equity Indices (% Change)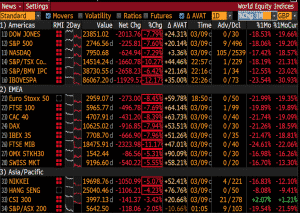 Source: Bloomberg Terminal
Trading was halted for 15 minutes in the US to avoid a repeat of the crash in the equity seen three decades ago. The worldwide panic and the chaos in the oil market which caused a Brent Crude to fall by 26% spooked investors.
It is the worst day for the financial markets since 2008.
Wall Street ended in a sea of red with all the three major US benchmarks deep in negative territory:
Dow Jones Average Industrial fell by a whopping 2,014 points or 7.8% to 23,851.
S&P500 dropped by 226 points or 7.60% at 2,747.
Nasdaq Composite 625 points or 7.30% lower at 7,951.

Source: Bloomberg Terminal
Currency Markets
Unlike the equity and commodities markets, trading in the currency market was not as volatile. In a classic reaction to a risk-off environment, investors piled up in safe-haven currencies. The Japanese Yen crosses gapped lower as the Yen gained haven flows.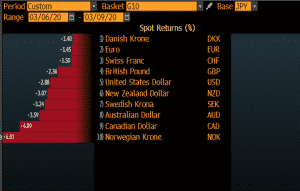 Source: Bloomberg Terminal
Attention remains on central banks' intervention. The Federal Reserve, Bank of Canada and Reserve Bank of Australia were among the first few major central banks to slash their interest rates amid the growing coronavirus concerns.
The focus turns to the European Central Bank among others.
Oil & Gold
Oil market tanked on Monday as panic gripped the financial markets. The sell-off accelerated following the tensions between OPEC members and Russia over further production cuts. The de-facto leader of OPEC, Saudi Arabia surprised the markets by discounting oil prices to its customers in Asia, the United States and Europe.
The impressive discount came after OPEC members and allies failed to agree on production oil prices to combat falling oil prices.
After falling below $28 and $32 respectively, WTI and Brent Crude are trading sideways around those levels. A price war between oil-producing countries in an already fragile environment where global demand is expected to fall further due to the coronavirus fears is doing little to combat the rout in oil prices.
UKOUSD and USOUSD (Hourly Chart)


Source: GO MT4
Gold price traded above $1,700 following the flash crashes in the markets. Amid growing coronavirus fears, investors are looking for safety with traditional safe-haven assets in anticipation of government responses to combat the spread.
Another country is in lockdown – Italy has extended quarantine measures nationwide. People are encouraged to stay at home in an attempt to halt the spread of the coronavirus. As of writing, gold price retreated from seven-year high to trade around the $1,670 levels.
XAUUSD (Daily Chart)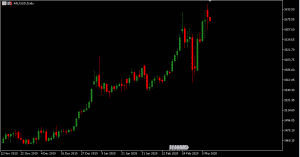 Source: Bloomberg Terminal
Key Upcoming Events
BRC Like-for-Like Retail Sales (UK)
Consumer Price Index (China)
Gross Domestic Product (Eurozone)
Wednesday, 11 March 2020 
Indicative Index Dividends
Dividends are in Points
ASX200
WS30
US500
US2000
NDX100
CAC40
STOXX50
3.436
10.173
0.197
0.048
0
0
0
ESP35
ITA40
FTSE100
DAX30
HK50
JP225
INDIA50
0
0
0
0
15.223
0
0
Disclaimer: Articles and videos from GO Markets analysts are based on their independent analysis. Views expressed are of their own and of a 'general' nature. Advice (if any) are not based on the reader's personal objectives, financial situation or needs.  Readers should, therefore, consider how appropriate the advice (if any) is to their objectives, financial situation and needs, before acting on the advice.