"Digital Gold" – New Safe-Haven Asset?
August 8, 2019
By Deepta Bolaky

 @DeeptaGOMarkets

During times of market turbulence, investors usually seek safety with safe-havens. Wall Street's fear gauge indicator, the CBOE Volatility Index jumped by nearly 40% at the start of the week on fears of heightened trade tensions and currency war.
Money was seen flowing into safe-havens amid heightened geopolitical tensions and global recession fears.
Physical Gold
Gold has been on a rally since May due to the rising geopolitical tensions, the US-China trade war, monetary easing policies and fears of a slowing global economy.
After the US President announced a new round of tariffs on Chinese goods, investors were on edge waiting for retaliation from China. When the Yuan dropped below the symbolic level of 7 on Monday, the concerns of a currency war rattled the markets.
Investors were piling up into safe-havens. Gold soared by more than 2% on Wednesday and breached the US$ 1,500 level for the first time in six years.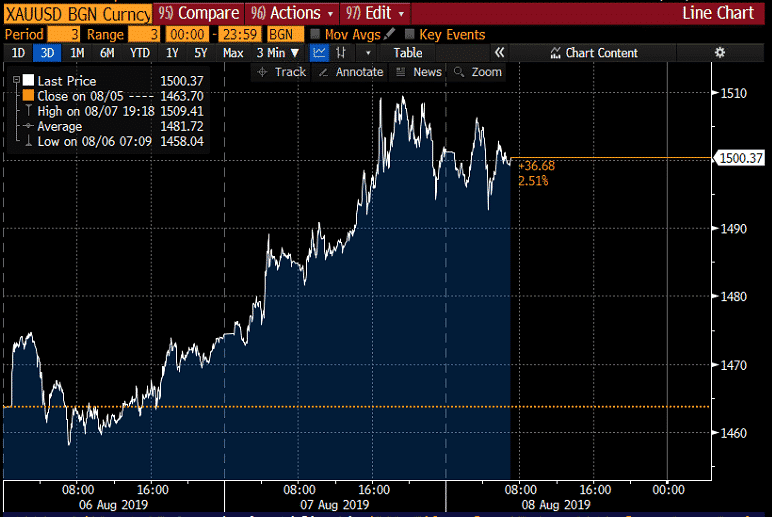 Source: Bloomberg Terminal 
Digital Gold
Many dubbed Bitcoin as the "digital gold" or "virtual gold". Similarly, we saw Bitcoin rallying during the massive sell-off in the equities markets. The digital asset rose above the $12,000 mark when the investors turned risk-off this week.

Source: Bloomberg Terminal
The below graph shows a certain level of correlation between the Physical Gold and Digital Gold. The revival of cryptocurrencies earlier this year and the fears in the financial market may suggest that digital assets are acting more and more like safe-haven assets.
This week's events again show that investors are also seeking refuge in cryptocurrencies alongside other traditional safe-haven assets.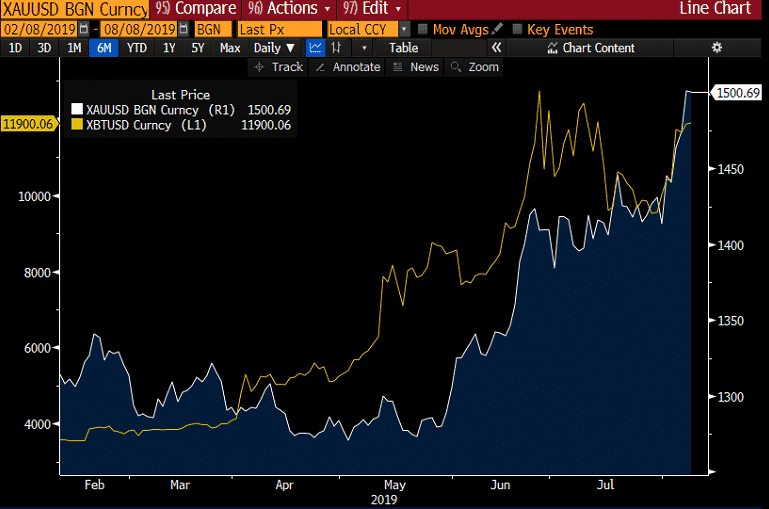 Source: Bloomberg Terminal
It may be too soon to claim that Bitcoin is the "digital gold" and is even given the safe-haven status, but it is important to monitor the movements of gold and bitcoin overtime during periods of market volatility or turbulence to see if investors see Bitcoin as a store of value.
 Disclaimer: Articles and videos from GO Markets analysts are based on their independent analysis. Views expressed are of their own and of a 'general' nature. Advice (if any) are not based on the reader's personal objectives, financial situation or needs.  Readers should, therefore, consider how appropriate the advice (if any) is to their objectives, financial situation and needs, before acting on the advice.
Next:
Previous: