Alibaba financial numbers fall short of expectations
19 November 2021
Alibaba Group Holding Ltd. (BABA) reported its latest financial results for the quarter ended September 30, 2021 before the market open on Thursday. The Chinese e-commerce giant posted disappointing results, falling short of analyst expectations.
The company reported revenue of $31.123 billion (up by 29% year-over-year) vs. $31.658 billion expected.
Earnings per share at $0.22 a share (38% decrease year-over-year) vs. $1.84 a share expected.
Daniel Zhang, Chairman and Chief Executive Officer of Alibaba Group commented on the results: "This quarter, Alibaba continued to firmly invest into our three strategic pillars of domestic consumption, globalization, and cloud computing to establish solid foundations for our long-term goal of sustainable growth in the future."
"Our global annual active consumers across the Alibaba Ecosystem reached approximately 1.24 billion, with a quarterly net increase of 62 million consumers, and we are on track to achieve our longer-term target of serving two billion consumers globally."
"We recorded revenue growth of 29% year-over-year, driven by performance of our diversified businesses," said Maggie Wu, Chief Financial Officer of the Chinese company.
"During this quarter, our continued investments in key strategic areas have resulted in robust growth for these young businesses."
Alibaba Group Holding Ltd. (BABA) chart (1Y)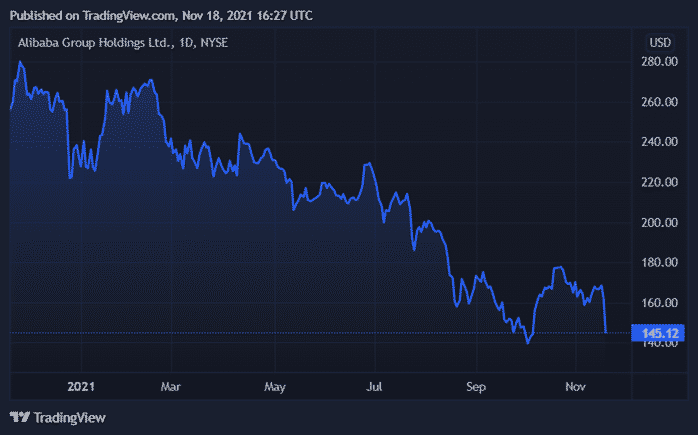 Shares of Alibaba plummeted after the latest financial report, down by around 10% during the session on Thursday. The stock is down by around 44% in the past year at $145 per share.
Alibaba is the 13th largest company in the world with a total market cap of $458.93 billion.
You can trade Alibaba Group Holding Ltd. (BABA) and many other stocks from the NYSE, NASDAQ, HKEX and the ASX with GO Markets as a Share CFD. Click here for more information. Trading Derivatives carries a high level of risk.
Sources: Alibaba, TradingView
Next Article
Macy's Inc. (M) posted its third-quarter results on Thursday. The US retailer which consist of three retails brands – Macy's, Bloomingdale's and Bluemercury posted better than expected results in previous quarter, sending the stock price higher. The company reported revenue of $5.44 billion in Q3 vs. $5.199 billion expected. Earnings ...
Read More >
Previous Article
NVIDIA Corp. (NVDA) reported its third-quarter financial results after the closing bell on Wednesday. The US technology company beat Wall Street ex...
Read More >