Salesforce Q2 numbers are in
26 August 2021
Salesforce released its latest earnings numbers for Q2 after the closing bell on Wednesday.
The cloud-based software company reported total revenue of $6.34 billion in the second quarter of the year, beating analyst forecast of $6.24 billion. The total revenue grew by 23% year-over-year. Earnings per share were reported at $1.48 per share, also beating analysts' forecasts of $0.92 per share.
"With companies and governments around the world continuing to accelerate their digital transformations, we delivered our fifth phenomenal quarter in a row," said Marc Benioff, Chair & CEO, Salesforce. "Salesforce has never seen better execution or greater momentum. Our Customer 360 platform is now fueled by a herd of unicorns perfectly designed for this all-digital world. Sales, Service, Marketing & Commerce, Platform, Tableau, MuleSoft and now Slack are all billion dollar-plus products delivering customer success like no other company."
"We had another remarkable quarter of top and bottom line performance, making this an impressive first half of this fiscal year," said Amy Weaver, President and CFO. "We exceeded our financial expectations in the quarter, achieving record levels of new business, and saw strong demand across our portfolio. And we are excited to build on Slack's momentum with the power of our two companies now together."
Salesforce.com Inc. (1Y)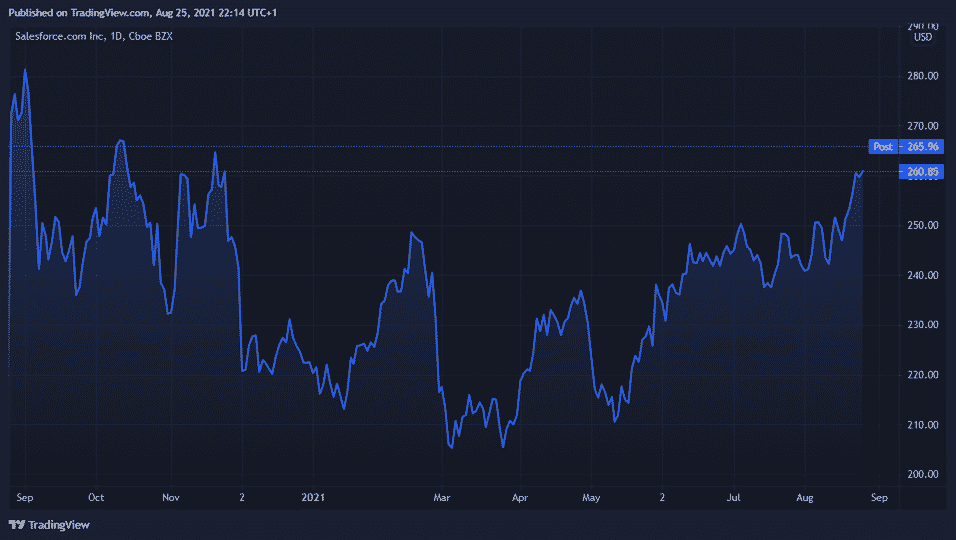 Shares of Salesforce were trading higher in the after-hours trading following the latest earnings numbers – up by 1.86%. The stock is up by 20.74% in the last year after ending the trading day on Wednesday at $260.85 per share.
You can trade Salesforce.com Inc. (CRM) and many other stocks from the NYSE, NASDAQ, HKEX and the ASX with GO Markets as a Share CFD. Click here for more information. Trading Derivatives carries a high level of risk.
Sources: Salesforce, TradingView, Refinitiv

#Economy #Economics #Finance #Markets
Next Article
XPeng reported its Q2 financial results before the opening bell on Thursday, beating analyst expectations. Let's take a closer look at the numbers. The company reported total revenue of $582.50 million in the second quarter, above analyst forecasts of $515.55 million. The total revenue was up by 536.7% from the same period last year and 27.5% ...
Read More >
Previous Article
General Motors Q2 results announced General Motors released their second quarter earnings report before Wednesday's opening bell. The company ...
Read More >