Up next: the Bank of Canada rate decision
8 December 2021
One of the must-watch economic events this week will be the Bank of Canada interest rate decision. The rate decision is due to be announced at 15:00 pm London time on Wednesday.
Why is the announcement important?
A bank interest rate is a rate at which a country's central bank lends money to local banks. The interest rate is charged by the nation's central or federal bank on loan advances to control the money supply in the economy and the banking sector. The Bank of Canada has an inflation target of 1% to 3%. The interest rates are changed accordingly to meet the target. The decision to increase, decrease, or maintain the interest rate has a significant impact on the financial markets, so it is one of the most closely watched economic events in the calendar.
Bank of Canada interest rate changes since January 2015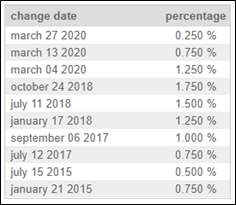 Expectations
In October, we saw the Bank of Canada leave its interest rate unchanged at 0.25% and it is expected that the interest rate will also remain unchanged this month.
The Canadian economy added 153,700 jobs last month which was way above analyst forecast of 37,500 jobs. The unemployment rate also fell to 6% from 6.7%. However, the main worry will be inflation which has reached its highest level in 18 years at 4.7% and the emergence of the new COVID-19 variant – Omicron.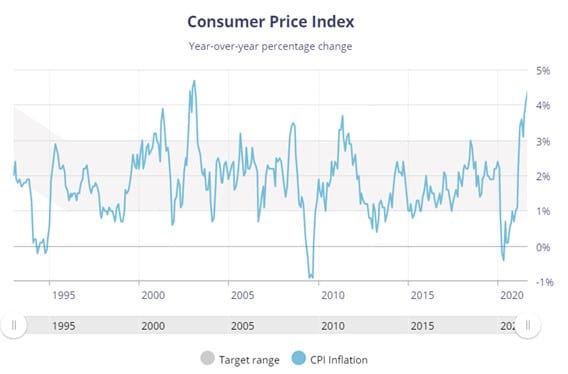 With interest rates likely to remain unchanged, all eyes will be on the monetary policy statement following the announcement where we may see further comments from the bank about the future outlook on the economy.
Remaining Central Bank rate decisions in 2021
15th December: US Federal Reserve (FOMC)
16th December: European Central Bank (ECB), Bank of England (BOE), Swiss National Bank (SNB), Norges Bank (NOK), Bank of Mexico (BANXICO)
17th December: Bank of Japan (BOJ)
You can keep up to date with economic announcements and events by clicking here for our GO Markets Economic Calendar.
Source: Bank of Canada, Global Rates
Next Article
Nike Inc. (NKE) reported its fiscal 2022 financial results for its second quarter ended November 30, 2021. Let's take a closer look at the numbers. The US sporting goods company reported revenue of $11.36 billion in the quarter (up by 1% from the same period last year) vs. $11.25 billion expected. Earnings per share was at $0.83 a share (up...
Read More >
Previous Article
Market sentiment soured last week with global equity markets mostly finishing lower in a volatile week. The risk off market narrative also saw FX t...
Read More >