Walmart tops Wall Street expectations
17 November 2021
Walmart Inc. (WMT) reported its third-quarter earnings before the market open on Tuesday. The largest retailer in the world beat Wall Street analyst expectations.
Total revenue was at $140.5 billion in the quarter (up by 4.3% year-over-year) vs. $135.427 billion expected.
Earnings per share at $1.45 a share (up by 8.2% year-over-year) vs. $1.40 a share expected.
"Our momentum continues with strong sales and profit growth globally. Our omnichannel focus is pushing digital penetration to record levels. We gained market share in grocery in the U.S., and more customers and members are returning to our stores and clubs around the world. Looking ahead, we have the people, the products, and the prices to deliver a great holiday season for our customers and members," Doug McMillon, Walmart President and CEO commented on the latest financial results.
Walmart Inc. chart (1Y)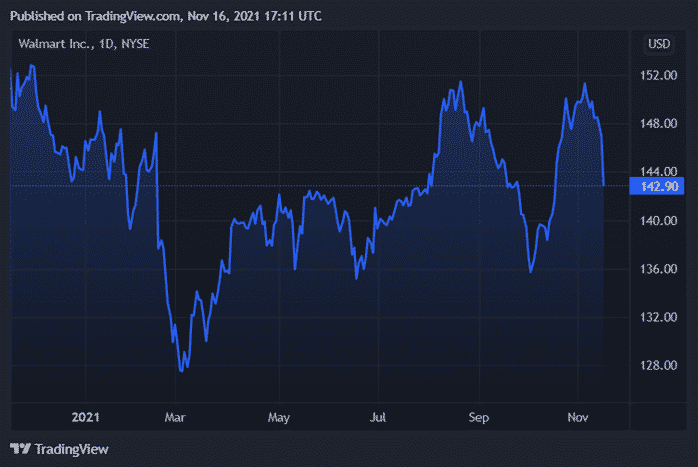 Shares of Walmart were trading lower during the trading day on Tuesday, down by around 2%. The stock is down by 6.13% in the past year at $142.90 per share at the time of writing this.
Walmart is the 20th largest company in the world and 14th biggest in the United States with a market cap of $405.02 billion.
You can trade Walmart Inc. (WMT) and many other stocks from the NYSE, NASDAQ, HKEX and the ASX with GO Markets as a Share CFD. Click here for more information. Trading Derivatives carries a high level of risk.
Sources: Walmart, TradingView
Next Article
NVIDIA Corp. (NVDA) reported its third-quarter financial results after the closing bell on Wednesday. The US technology company beat Wall Street expectations on both revenue and earnings per share. NVIDIA reported a record revenue of $7.103 billion in the third-quarter (up by 50% year-over-year and 9% up from the previous quarter) vs. $6.821 ...
Read More >
Previous Article
NIO Inc. (NIO) reported its third-quarter financial results after the closing bell on Tuesday. The Chinese electric car maker reported revenue of $...
Read More >