Zoom beats estimates
24 November 2021
Zoom Video Communications Inc. (ZM) reported its latest financial results after the closing bell on Monday.
The US based company, which offers a cloud-based video conferencing service topped analyst expectations for the third fiscal quarter ended October 31, 2021.
Total revenue reported at $1.051 billion (up 35% year-over-year) in the quarter vs. $1.018 billion expected.
Earnings per share at $1.11 per share vs. analyst estimate of $1.09 per share.
Eric S. Yuan Zoom founder and CEO, Eric S. Yuan commented on the latest results: "In Q3, we held our premier user event, Zoomtopia, on our Zoom Events service. During this immersive, multi-track conference, we showcased how Zoom is placing people at the center of our communications platform, connecting their disparate work streams into our technology, moving beyond enterprises' ability to collaborate internally, and empowering them to communicate face-to-face with their customers through Zoom Events and our upcoming Video Engagement Center. We also showcased innovations such as hot desking, whiteboarding, and smart gallery, all designed to empower both co-located and remote hybrid workforces as some companies test return to office programs."
"Through innovation and dedication, we will continue to deliver happiness to our customers. Looking forward, we expect to close the year between $4.079 to $4.081 billion in total revenue, representing approximately 54% year-over-year growth, alongside strong profitability and operating cash flow growth. We are well on our way to becoming an indispensable platform for enterprises, individuals, and developers to connect, collaborate, and build in the flexible hybrid world of work. We believe our global brand, innovative technologies, and large customer base position us well for the future," he added.
Zoom Video Communications Inc. (ZM) Chart (1Y)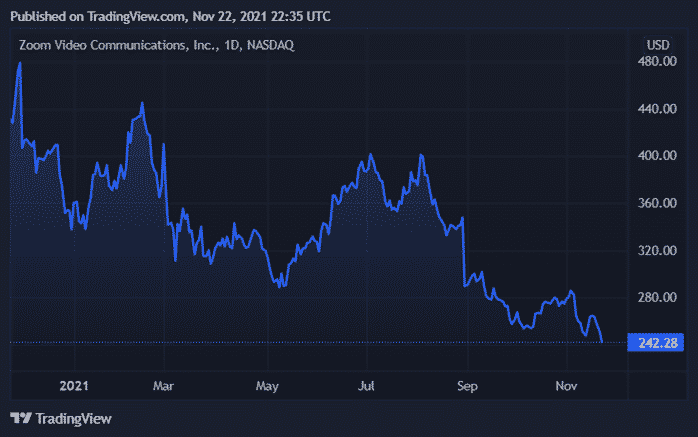 Despite posting better than expected results for the previous quarter, share price of Zoom was down in the after-hours trading by around 6%. The stock is down by over 40% in the past year at $242.28 a share.
Zoom is the 234th largest company in the world with a market cap of $72.31 billion.
You can trade Zoom Video Communications Inc. (ZM) and many other stocks from the NYSE, NASDAQ, HKEX and the ASX with GO Markets as a Share CFD. Click here for more information. Trading Derivatives carries a high level of risk.
Sources: Zoom, TradingView.
Next Article
Last week, NIO announced that they have entered into a strategic agreement with Shell, the largest gasoline retailer in the world. The latest move is a boost for NIO to further establish themselves in the electric vehicle industry. The agreement includes plans to construct and operate battery charging and swapping facilities in China and Europe....
Read More >
Previous Article
JD.com Inc. (JD) announced its third-quarter earnings numbers on Thursday, beating analyst estimates. The Chinese e-commerce company reported reven...
Read More >