Zoom beats Q2 expectations
31 August 2021
Zoom reported its second quarter financial numbers after the market close on Monday.
The video-calling software company reported total revenue of $1.02 billion in Q2 (up by 54% year-over-year) vs $991 million expected. It was the first time the total revenue exceeded $1 billion in a single quarter.
Earnings per share also came in above estimates at $1.36 per share vs $1.16 per share expected.
"In Q2, we achieved our first billion dollar revenue quarter while delivering strong profitability and cash flow," said Zoom founder and CEO, Eric S. Yuan.
"Q2 also marked several milestones on our expansion beyond the UC platform. We launched Zoom Apps, bringing over 50 apps directly into the Zoom experience, and Zoom Events, an all-in-one digital events service. Today we are a global brand counting over half a million customers with more than 10 employees, which we believe positions us extremely well to support organisations and individuals as they look to reimagine work, communications, and collaboration."
Zoom Video Communications Inc. (1Y)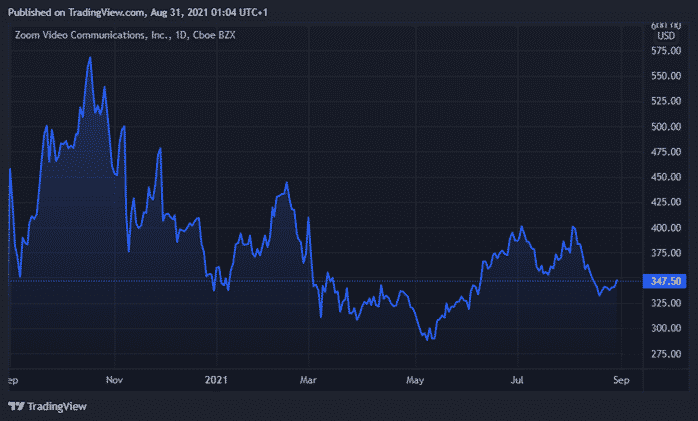 Despite higher than expected numbers, the share price was down by around 12% in the after-hours trading as the company showed slowing growth from the previous quarter. The stock is up by 6.89% in the past year after ending the trading day at $347.50 per share on Monday.
You can trade Zoom Video Communications Inc. (ZM) and many other stocks from the NYSE, NASDAQ, HKEX and the ASX with GO Markets as a Share CFD. Click here for more information. Trading Derivatives carries a high level of risk.
Sources: Zoom, Refinitiv, TradingView

#Economy #Economics #Finance #Markets
Next Article
Cash stock indices such as the Dow 30, FTSE 100 and ASX 200 are made up of constituent stocks which is where their price is derived from. These constituent stocks of an index will periodically pay dividends to shareholders, causing a drop in that stocks price and impacting the overall value of the index. With GO Markets this index adjustment wi...
Read More >
Previous Article
In August equities and risk currencies dipped as fears of slowing global growth, rising Delta strain cases and tapering of loose monetary policy from ...
Read More >