Facebook hits an all-time high
8 April 2021
Facebook has had a fair share of negative news headlines in recent times with lawsuits filed against the company and calls to improve the monitoring of information that is posted on the social media platform. Despite that, the share price of Facebook hit an all-time high this week after trading at above $314 per share for the first time during the trading day on Thursday. With the negative headlines, there is also a level of optimism about the future of the company with revenue numbers expected to increase in 2021.
Q4 2020– revenue growth
Last year, the company saw a substantial slowdown in revenue growth in Q2 due to the COVID-19 pandemic when it saw a significant reduction in its advertising side of the business. However, Q4 revenue rose by 33% year-over-year, a significant increase from 22% growth in Q3 and 11% in Q2.
"This was a strong quarter for our business, as the acceleration of online commerce we've seen during the pandemic continued into the holiday season. Our total revenue for Q4 was $28.1 billion, which is a 33% year-over-year increase. Our fastest growth rate in over two years. After a really difficult year for so many businesses, this holiday period was important. And while many businesses are still struggling, the good news is that Q4 was stronger than expected for retail", Sheryl Sandberg, Facebook's COO explained Q4 performance during its earning call back in January.
The share price is up by around 14% since the beginning of the year.
Facebook – YTD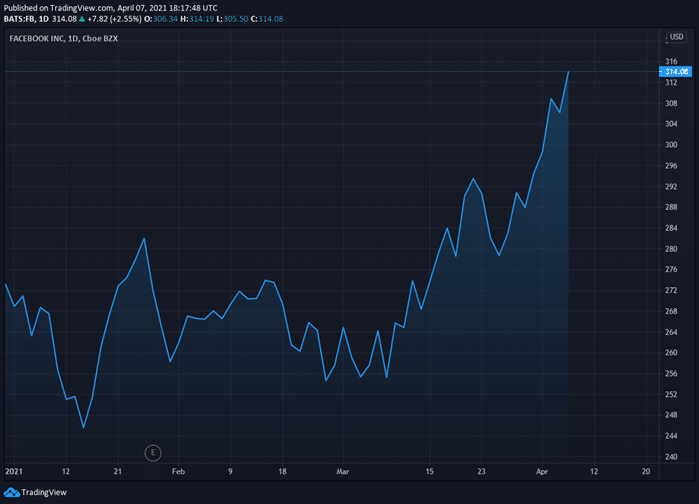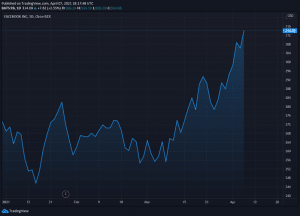 Source: TradingView
Price target increase
Deutsche Bank recently increased their price target for Facebook from $355 to $385 and maintained a "buy" rating for the social media giant following positive feedback from advertisers and Mark Zuckerberg's positive comments about more e-commerce moving onto the platform.
Deutsche Bank data checks show that advertisers have continued to spend on the platform in Q1 of 2021.
Facebook report Q1 2021 earnings on 28th April.
You can trade Facebook (FB) and many other stocks from the ASX, NYSE, and the NASDAQ with GO Markets as a Share CFD. Click here for more information. Trading Derivatives carries a high level of risk.

#Indice #Indices #IndicesTrading #IndexTrading #Shares #Stockmarket #Stocks
Next Article
Equity markets US Equity markets took a breather overnight with all major indexes drifting modestly lower after the S&P 500 and Dow logged fresh record highs last week.         Dow Jones down 55 (0.16%)         NASDAQ down 50 (0.36%)         S&P 500 down 1 (0.02%)         Russell 2000 down 10 (0.43%) ...
Read More >
Previous Article
Markets Eager To Resume As the Easter holidays fade, we quickly saw a market resurgence of traders looking to resume normality. Perhaps one of the mo...
Read More >