NIO and Sinopec partnership announced
16 April 2021
Last week marked a significant milestone for NIO when it produced its 100,000th electric vehicle. The latest development also caught the eye of Tesla CEO Elon Musk, to which he responded: "Congrats to NIO. That is a tough milestone."
On Thursday, NIO officially confirmed its partnership with Sinopec – taking a major step forward in the company's future. Rumours about a potential partnership between the two companies first emerged back in February, when Sinopec Chairman Zhang Yuzhuo visited NIO's battery swap station.
About Sinopec
Sinopec is the largest supplier of refined oil products and petrochemicals as well as the second-largest oil and gas producer in China. It was founded on 25th February 2000 in Beijing, China and has over 240,000 employees globally. The company has more than 30,000 gas stations – second highest in the world.
The partnership
NIO's statement on the partnership:
"The partnership between Sinopec and NIO is an important milestone for further developing China's smart EV industry, a concrete measure to help achieve peak carbon emissions and achieve carbon neutrality, a key step in developing global, green, and innovative transportation initiatives and innovations."
Following the announcement, NIO and Sinopec also unveiled the NIO Power Swap Station 2.0 at Sinopec's Chaoying Station in Beijing, China.
The share price of NIO has taken a hit in recent months after reaching record highs back in February when it climbed above $60 per share. It was down by around 5% on Thursday following the announcement, trading at around $34 per share.
Worth noting that it was trading at $3.20 per share same time last year, a 995% increase at the current share price.
NIO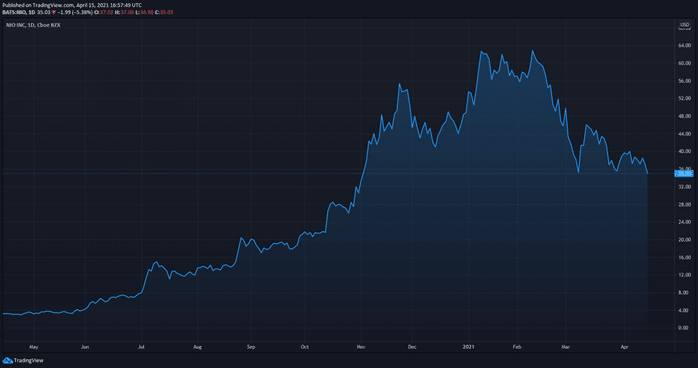 Source: TradingView
You can trade NIO (NIO) and many other stocks from the ASX, NYSE, and the NASDAQ with GO Markets as a Share CFD. Click here for more information. Trading Derivatives carries a high level of risk.
#Indice #Indices #IndicesTrading #IndexTrading #Shares #Stockmarket #Stocks
Next Article
Equity markets US stocks jumped overnight to reach record levels as stronger than expected print on retail sales and a sharp improvement in the number of new jobless claims cheered the investors. Source: Yahoo Finance US reporting season kicked off this week with impressive results so far from Finance heavyweights JP Morgan, Goldman, BOA and...
Read More >
Previous Article
Equity markets US Equity markets were mixed last night with a strong performance from the financial sector pushing the Dow to intra day all time high...
Read More >