NIO sets a new record
2 December 2021
NIO Inc. (NIO) reported its latest delivery numbers for November on Wednesday, setting a new monthly following disappointing results in October.
The Chinese electric vehicle company delivered 10,878 cars last month – an increase of 105.6% year-over-year.
The deliveries in November consisted of:
2,683 ES8s – the company's six-seater or seven-seater flagship premium smart electric SUV
4,713 ES6s – the company's five-seater high-performance premium smart electric SUV
3,482 EC6s – the company's five-seater premium smart electric coupe SUV
NIO has delivered a total of 80,940 cars in 2021 and 156,581 in total as of 30th November, 2021.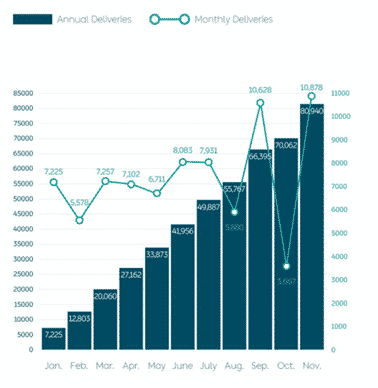 NIO Inc. Chart (1Y)
Shares of NIO were trading higher on Wednesday following the latest delivery numbers, up by around 2% on the day. The stock is down by 16.61% in the past year at $40.19 a share.
NIO is the 13th largest automaker in the world with a market cap of $63.79 billion.
You can trade NIO Inc. (NIO) and many other stocks from the NYSE, NASDAQ, HKEX and the ASX with GO Markets as a Share CFD. Click here for more information. Trading Derivatives carries a high level of risk.
Sources: NIO, TradingView, CompaniesMarketCap
#Indice #Indices #IndicesTrading #IndexTrading #Shares #Stockmarket #Stocks
Next Article
It's the beginning of a new month which means that the Non-Farm Payroll figures will be released this week by the US Bureau of Labor Statistics. The latest US jobs data for November will be released at 13:30 PM London time on Friday. Why is the announcement important? Non-Farm Payroll is one of the most closely watched indicators....
Read More >
Previous Article
After Fridays steep decline on concerns of a resurgent COVID strain, global markets staged a comeback rally on Monday. Dip buyers appeared after inves...
Read More >