DOW hits all time highs, Nikkei back to bubble era prices and Bitcoin's wild ride.
26 February 2021
Going into the month's last day of trading, Global markets have performed well despite a sell off this week. Continued hopes that we're on a path to economic recovery, with COVID vaccines rolling out and the subsequent drop in cases, have supported markets and drawn in investors.
Global Equities
Major US Indices all saw record highs, with the Dow and S&P500 finishing the month strongly. The tech heavy NASDAQ also hit all-time highs before selling off as investors rotated into traditional cyclical stocks. Tech stocks such as Amazon, Peloton and DocuSign, which all performed well during COVID lockdown measures, dragged down the index as lockdowns started to ease all over the world.
European, UK, Asian and Australian equity markets also performed strongly.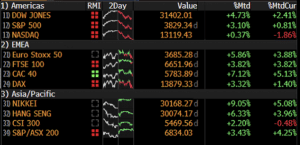 Source: Bloomberg
US Markets
February saw record highs earlier in the month as COVID vaccinations rolled out out and the Federal Reserve re-iterated its commitment to accommodative conditions until employment and inflation targets are met. Despite these assurances from the Fed there's been a spike in bond yields which has caused concern for investors in the last days of the month, resulting in a significant sell off in US markets overnight. Investors will be watching this coming into March as any continuation of rising yields will be a negative for equities.
Asian Markets
Asian markets performed strongly in February with the Nikkei being the strongest performer, breaking above 30000 – a level not seen since the bubble era of the 80s/90s.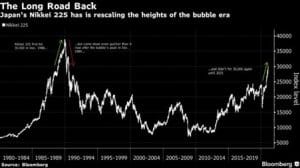 Source: Bloomberg
Hong Kong's Hang Seng also continued its impressive run. HKEX has seen record volumes on Chinese firms finding a new home there over concerns they'd be booted from US exchanges. HKEX is now the world's biggest bourse by market value, easily beating rival bourses in London and the US.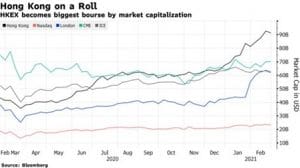 Australia
The ASX 200 has rallied over 3% to date in February. Persistently high commodity prices, an extension in the RBA's QE bond buying program, and a recovering labour market all supported Aussie equities. COVID vaccinations starting also gave investors optimism for a continuing economic recovery.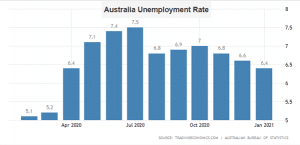 Source: tradingeconomic.com
FX market
February saw a mostly weaker US dollar, with the greenback only outperforming safe haven currencies the Swiss Franc and Japanese yen. With equity markets rallying and record commodity prices, risk and commodity backed currencies outperformed, with the AUDUSD breaking decisively through its 2021 resistance level of 78c US.

Source: Bloomberg
British Pound
Despite being neither a risk on nor commodity currency the British pound strongly rallied this month on impressive COVID vaccination progress.
The pound hit its highest level against the US dollar in nearly three years, amid rising optimism about an end to lockdown in the UK.
Australian Dollar
The Australian Dollar was the top performing major currency in February. This despite a dip at the start of the month, when the RBA somewhat surprised the market with an announcement of the extension of the 100 billion bond buying program.
Strong signs of recovery in the local labour market, Chinese demand for commodities which are near record highs, and the status of AUD being a 'risk on' currency all helped AUDUSD break through the 78c US level. Analysts at ANZ and CBA expect the Australian dollar to trade as high as 82 US cents by the end of the year.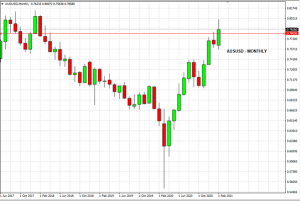 Source: GO MT4
Bitcoin
Bitcoin again proved how volatile it can be with wild swings during the month. The cryptocurrency gyrated wildly from 32k USD at the start of the month, hitting an all-time high above 57K before selling off to be around 47k at the time of writing.
Increased optimism in the institutionalising of Bitcoin as big players such as Morgan Stanley, Bridgewater capital, BNY Mellon and Tesla announced Bitcoin investments drove the price higher as momentum traders jumped on board.
The party was somewhat spoilt by comments from Treasury secretary Janet Yellen who labelled Bitcoin "an "inefficient" digital currency and one that is often used for illegal transactions" Government regulation and banning of Bitcoin is the biggest fear of traders in this market.

Source: GO MT4

 
Gold
Spot Gold prices dropped around 5% in February to date as the precious metal came under serious selling pressure. This drop is despite US dollar weakness; as the economic recovery progresses globally, gold's appeal is waning.
With inflation reportedly low in developed economies gold's other function as an inflation hedge has also waned. XAUUSD is now testing critical support levels that were set late in 2020.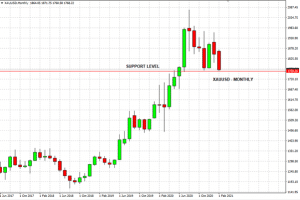 Source: GO MT4
Monday, 22 February 2021 
Indicative Index Dividends
Dividends are in Points
ASX200
WS30
US500
US2000
NDX100
CAC40
STOXX50
10.832
8.224
0.097
0.029
0
0
0
ESP35
ITA40
FTSE100
DAX30
HK50
JP225
INDIA50
0
0
0
0
0
0
0.718

Next Article
Equity markets US Equity markets were a mixed bag overnight with the Dow Jones again hitting all time highs while the rout of the tech heavy NASDAQ continued. The NASDAQ has now officially slid into correction territory after dropping over 10% from its closing high on February 12. The S&P 500 which has tech giants such as Alphabet and App...
Read More >
Previous Article
Equity markets US markets rallied broadly last night with the Dow again hitting an all time high as investors were cheered by Fed chair Jerome Powell...
Read More >