Rising yields have markets seesawing, US dollar rising
19 March 2021
Equity markets
US markets dropped sharply overnight as inflation fears returned on the back of Treasury yields hitting their highest levels in more than a year.
Investors are concerned the Federal Reserve will allow inflation to accelerate, after Wednesday's policy meeting where they reaffirmed their commitment to easy money policies.
As seen previously the hardest hit stocks were the growth small caps and Tech companies on the Russell and NASDAQ, as traders rotated out of these sectors into traditional value stocks tracked by the Dow Jones index. The Dow did touch all time highs during the session before fading in the afternoon.
       

Dow Jones down 153 (0.46%)

       

NASDAQ down 409 (3.02%)

       

S&P 500 down 58 (1.48%)

       

Russell 2000 down 69 (2.94%)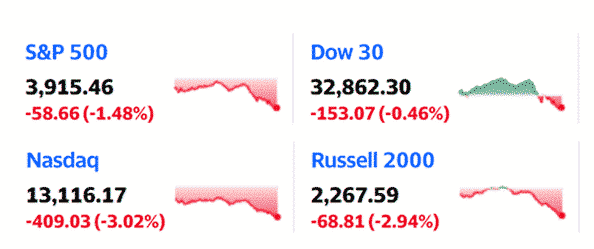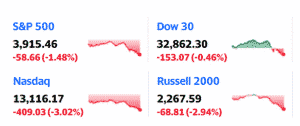 Source: Yahoo Finance
The Australian equity market had a choppy week, mirroring its US counterparts as economic enthusiasm battled with fears of rising interest rates. The ASX 200 dropped yesterday with the sell-off continuing today as much better than forecast employment figures saw market expectations of rising interest rates coming sooner than previously expected.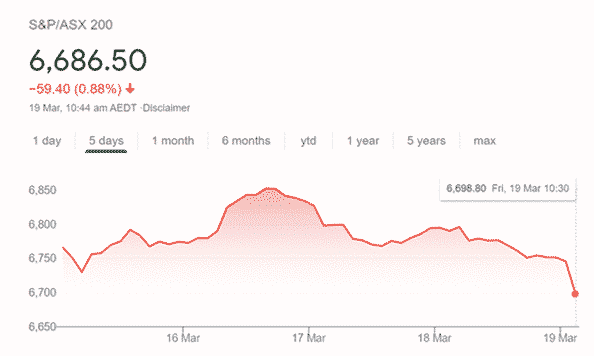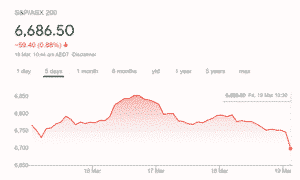 Source: Yahoo Finance
World equity indices are mostly flat for the week as markets see sawed between all time highs and steep declines. Evidence of rotation from Growth and momentum stocks into traditional value stocks in the US is evident from Dow's outperformance of the NASDAQ and S&P 500.
The ASX 200 also dropped over the week as rising Aussie and US bond yields plus a strong employment report had investors reassessing predictions of when the RBA would start a tightening cycle on rates.


Source: Bloomberg
Forex markets
FX markets saw a mostly stronger US dollar against most major currencies. Rising bond yields in the US have mostly driven this move higher – higher interest rates make the US dollar a more attractive investment than its counterparts. Traditional safe haven currencies the Swiss Franc and Japanese Yen were the only major currencies to outperform the US dollar this week, on a choppy performance in equity markets.


Source: Bloomberg
Commodities
Gold
Spot gold (XAUUSD) was the other safe haven that rallied against the US dollar, being modestly up for the week at the time of writing.
Despite a mostly rising US Dollar, gold ground higher on inflation fears spurred by rising rates in bond yields.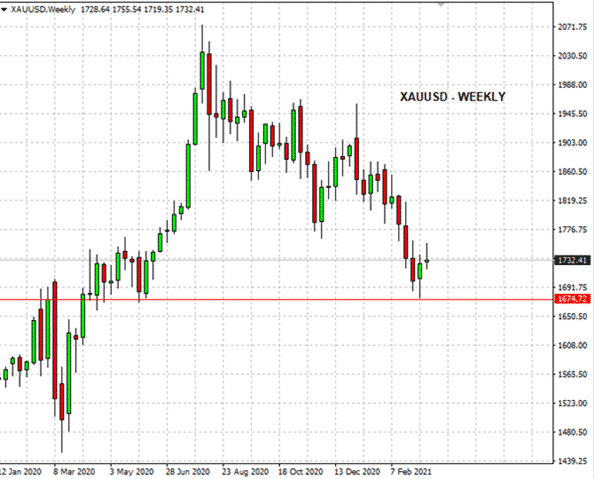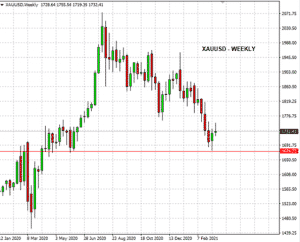 Source: GO MT4
Oil
US crude prices dropped sharply this week as US crude found stiff resistance around the $67 a barrel price level after a recent strong run up.
US Crude plunged more than 9% in yesterday's session at one point, on concerns new COVID lockdowns in Europe will sap demand, and whether the recent run up is justified with the current progress of world economic recovery.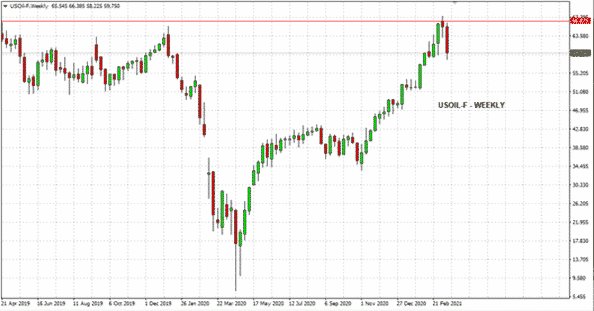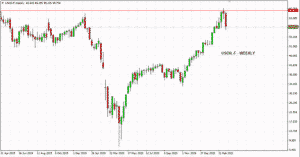 Source: GO MT4
Bitcoin 
Bitcoin gapped on the Monday open to set a record price above $60k US per token. This after an extremely volatile week which saw the cryptocurrency ranging from 53k – 60k
Whether the cryptocurrency has run out of steam at these levels or is preparing for another push higher remains to be seen.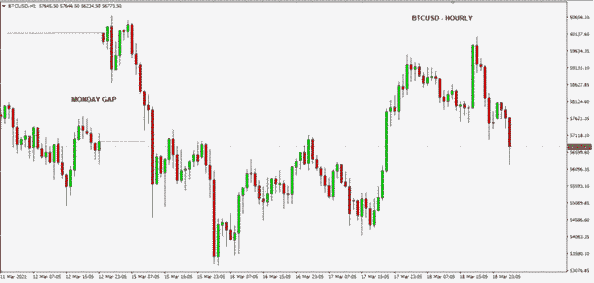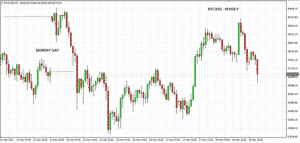 Source: GO MT4
Monday, 22 March 2021 
Indicative Index Dividends
Dividends are in Points
ASX200
WS30
US500
US2000
NDX100
CAC40
STOXX50
0.081
0
0.01
0.024
0
0.098
0
ESP35
ITA40
FTSE100
DAX30
HK50
JP225
INDIA50
0
1.454
0
0
0
0
1.072

Next Article
March has been an interesting month in global markets. Everything from shipwrecks to a blown-up hedge fund to a continued rise in US bond yields has had investors scrambling to position themselves. Global Equities Major world indices were mostly positive with the Dow Jones and S&P 500 hitting all-time highs in the US and the DAX doing the...
Read More >
Previous Article
Equity markets US Equity pushed higher overnight with the S&P500 and Dow Jones indexes both closing at record highs. Investors were cheered by ...
Read More >