Netflix Q1 numbers are in
21 April 2021
Netflix reported their Q1 earnings after the closing bell on Tuesday.
The online streaming service reported total revenue of $7.16 billion in Q1 beating analyst forecast of $5.77 billion. Earnings per share were reported at $3.75 vs. $2.98 estimate.
With both revenue and earnings per share higher than analysts' expectations, the new paid subscriber additions came in way below analysts' forecast of 6.29 million – at 3.98 million. The latest dip in new additions could be the beginning of a further slowdown in new subscribers as lockdown eases around the world and people return to normality.
"Revenue grew 24% year over year and was in line with our beginning of quarter forecast while operating profit and margin reached all-time highs. We finished Q1'21 with 208m paid memberships, up 14% year over year, but below our guidance forecast of 210m paid memberships. We believe paid membership growth slowed due to the big Covid-19 pull forward in 2020 and a lighter content slate in the first half of this year, due to Covid-19 production delays. We continue to anticipate a strong second half with the return of new seasons of some of our biggest hits and an exciting film lineup. In the short-term, there is some uncertainty from Covid-19; in the long-term, the rise of streaming to replace linear TV around the world is the clear trend in entertainment," Netflix said in a letter to investors following the announcement.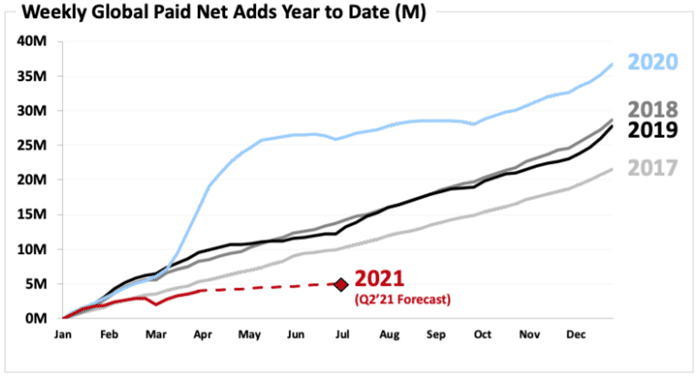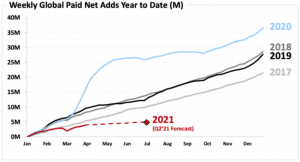 Shares of Netflix was down by around 9% in post-market on Tuesday following the latest numbers, down at $495 per share after ending the trading day a $549.57 per share.
Netflix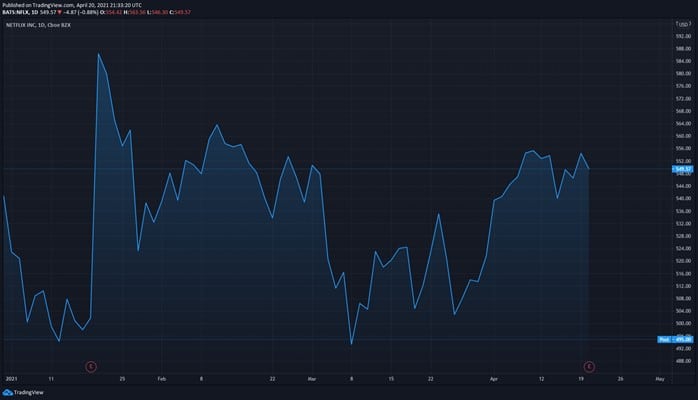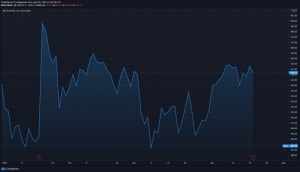 Source: TradingView
You can trade Netflix (NFLX) and many other stocks from the NYSE, NASDAQ and the ASX with GO Markets as a Share CFD. Click here for more information. Trading Derivatives carries a high level of risk.
#Indice #Indices #IndicesTrading #IndexTrading #Shares #Stockmarket #Stocks
Next Article
Equity markets US Equity markets slumped last night for a second straight day as the S&P 500 had its worst day in a month after last week's record highs. Small caps were the worst performing stocks with optimism fading in the re-opening of the world economy on an increase of global COVID being reported.         Dow Jones down 25...
Read More >
Previous Article
Equity Markets US stocks rose Friday, capping off a very strong week with the Dow, S&P 500 and NASDAQ all closing at record highs. Investors...
Read More >