Intel reports Q1 earnings
23 April 2021
Intel, the US technology giant reported its Q1 earnings after the closing bell on Thursday.
The company reported revenue of $18.57 billion, above analyst forecast of $17.90 billion. Earnings per share were at $1.39, also beating analyst expectations of $1.15 per share.
Intel's data-centre group revenue fell by over 20% year-over-year to $5.56 billion, below analyst forecast of $5.89 billion.
"Intel delivered strong first-quarter results driven by exceptional demand for our leadership products and outstanding execution by our team. The response to our new IDM 2.0 strategy has been extraordinary, our product roadmap is gaining momentum, and we're rapidly progressing our plans with a re-invigorated focus on innovation and execution," said Pat Gelsinger, Intel CEO.
"This is a pivotal year for Intel. We are setting our strategic foundation and investing to accelerate our trajectory and capitalize on the explosive growth in semiconductors that power our increasingly digital world."
Despite the earnings beat, the share price of Intel was trading lower in post-market – down by 2.51%. The stock is up by 25% year-to-date after ending the trading day on Thursday at $62.57 per share.
Intel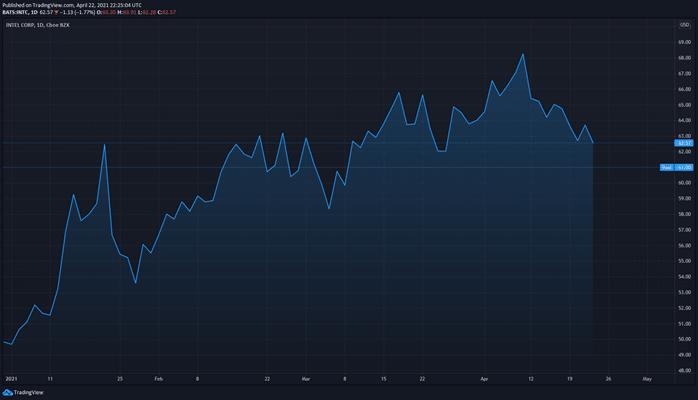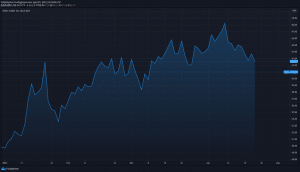 Source: TradingView
Intel is the world's largest semiconductor chip maker by revenue. The company is headquartered in California, US and has over 110,000 employees worldwide. It supplies microprocessors for computer manufacturers such as Dell and HP.
You can trade Intel (INTC) and many other stocks from the NYSE, NASDAQ and the ASX with GO Markets as a Share CFD. Click here for more information. Trading Derivatives carries a high level of risk.
#Indice #Indices #IndicesTrading #IndexTrading #Shares #Stockmarket #Stocks
Next Article
Equity markets US markets dropped last night, reversing what was looking like a positive session to finish as the worst single session in the month of April across the major US indexes. Sparking the sell off was a report that the US administration was eyeing a proposal to increase the capital gains tax rate on wealthy individuals, almost doub...
Read More >
Previous Article
Equity markets Wall St bounced back strongly last night after two straight down sessions. It was a rally across the board with blue chips, tech and...
Read More >