Up first – Tesla Q1 earnings numbers are in
27 April 2021
It's set to be busy one over in the United States this week with some of the world's largest companies, including Apple, Microsoft, Facebook and Alphabet due to report their Q1 earnings. Up first – Tesla. World's largest electric vehicle maker reported their results after the closing bell on Monday.
Elon Musk's Tesla reported total revenue of $10.39 billion in Q1 above analyst forecast of $10.29 billion. Adjusted earnings per share were reported at $0.93 above $0.78 expected. Net profit reached $438 million in Q1 – the highest quarterly number ever for the company.
"In Q1, we achieved our highest ever vehicle production and deliveries. This was in spite of multiple challenges, including seasonality, supply chain instability and the transition to the new Model S and Model X. Our GAAP net income reached $438M, and our non-GAAP net income surpassed $1B for the first time in our history."
Earlier in the month, the company reported record delivery numbers with 184,800 vehicles delivered in the first 3 months of 2021 – a 109% improvement from Q1 in 2020. Tesla are planning a 50% average annual growth in vehicle deliveries in the next few years.
"Over a multi-year horizon, we expect to achieve 50% average annual growth in vehicle deliveries. In some years we may grow faster, which we expect to be the case in 2021," Tesla said in a statement. "The rate of growth will depend on our equipment capacity, operational efficiency and capacity and stability of the supply chain."
Shares of Tesla trading lower following the latest numbers, down by 1.83% post-market after ending the trading day on Monday at $738.20 per share. Share price is up by over 4% year-to-date. Total market cap currently stands at over $722 billion, making it the 8th largest company in the world.
Tesla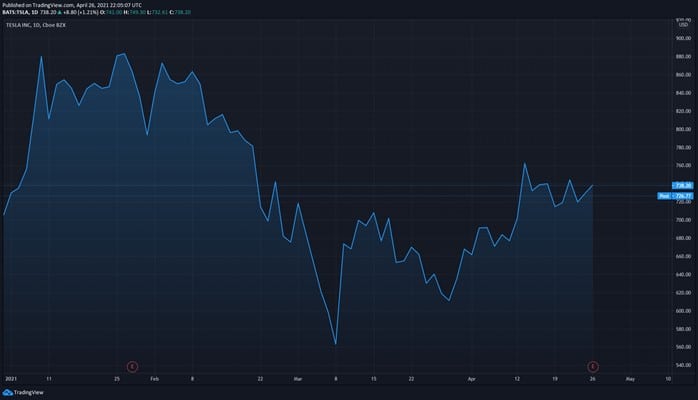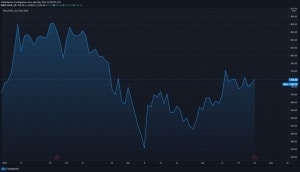 Source: TradingView
You can trade Tesla (TSLA) and many other stocks from the ASX, NYSE, and the NASDAQ with GO Markets as a Share CFD. Click here for more information. Trading Derivatives carries a high level of risk.
#Indice #Indices #IndicesTrading #IndexTrading #Shares #Stockmarket #Stocks
Next Article
Equity Markets US Equity markets were mixed overnight on a muted session ahead of the upcoming two day FOMC policy meeting that kicks off today. The Dow Jones finished slightly down with modest gains keeping the NASDAQ and S&P 500 near all time highs as traders await any indication from the Fed as to future rate moves or adjustments in gu...
Read More >
Previous Article
Equity Markets US stocks bounced back with a broad rally, the S&P 500 set an intra-session all-time high as investors returned to buy the dip aft...
Read More >