Beyond Meat Q3 numbers fall short of expectations
11 November 2021
Beyond Meat Inc. (BYND) reported its third-quarter financial results after the closing bell on Wednesday. The plant-based company posted disappointing results, falling short of Wall Street analyst expectations.
The company reported revenue of $106.4 million (12.7% increase year-over- year) vs. $109.2 million expected. Loss per share at $0.87 a share vs. $0.37 loss per share expected.
Beyond Meat President and CEO Ethan Brown commented on the latest results: "Our third quarter results reflect variability as we saw a decline from record net revenues just a quarter ago. Despite current disruptions, we remain focused on rapidly advancing key building blocks of long-term growth. Whether scaling products and infrastructure for our strategic quick serve restaurant partners, bringing new product to retail markets, or investing in innovation, commercialization, and production capabilities here in the U.S., EU, and China, we believe we are steadily executing against our vision of being tomorrow's global protein company."
"Near-term market and operating conditions notwithstanding, we remain committed to our long-term strategy. As we continue to advance the field of plant-based meat through innovation and bold investment in domestic and global operations, the consumer is only being made more aware of the relevance and urgency of our mission. And although we see continued uncertainty for the balance of this year, we look to 2022 with enthusiasm as we expect to bring to life, together with our strategic partners, product and production capacity that we've been steadfastly investing in throughout the pandemic," Brown added.
Beyond Meat Inc. chart (1Y)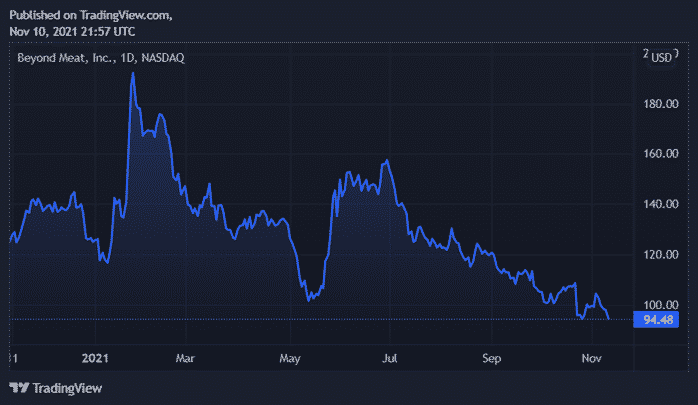 Share price of the Los Angeles based company fell sharply in the after-hours trading following the Q3 results, down by over 16%. The stock is down by 24.42% in the past year at $94.48 per share.
You can trade Beyond Meat Inc. (BYND) and many other stocks from the NYSE, NASDAQ, HKEX and the ASX with GO Markets as a Share CFD. Click here for more information. Trading Derivatives carries a high level of risk.
Sources: Beyond Meat, TradingView
Next Article
NIO Inc. (NIO) reported its third-quarter financial results after the closing bell on Tuesday. The Chinese electric car maker reported revenue of $1.52 billion in Q3 – a 116.6% increase from the same period year and 16.1% increase from Q2 vs. analyst estimate of $1.43 billion. The company reported loss per share of $0.06 a share for the previo...
Read More >
Previous Article
PayPal Holdings Inc. (PYPL) reported its third-quarter financial results after the closing bell on the Monday. The company reported revenue of $6.1...
Read More >