NIO Q3 results are in
11 November 2021
NIO Inc. (NIO) reported its third-quarter financial results after the closing bell on Tuesday.
The Chinese electric car maker reported revenue of $1.52 billion in Q3 – a 116.6% increase from the same period year and 16.1% increase from Q2 vs. analyst estimate of $1.43 billion. The company reported loss per share of $0.06 a share for the previous quarter vs. $0.07 loss per share expected.
NIO delivered a total of 21,439 vehicles in Q3, a 100.2% increase from Q3 in 2020 when the company delivered 12,206 vehicles. The deliveries in the third-quarter consisted of:
5,418 ES8s – the company's six-seater or seven-seater flagship premium smart electric SUV
11,271 ES6s – the company's five-seater high-performance premium smart electric SUV
7,750 EC6s – the company's five-seater premium smart electric coupe SUV
"We achieved another all-time high quarterly delivery of 24,439 for the third quarter of 2021, representing a solid growth of 100.2% year-over-year. Our demand continues to be strong and our new orders reached a new record high in October," said William Bin Li, Founder, Chairman and Chief Executive Officer of NIO.
"Despite the continued supply chain volatilities, our teams and partners are working closely together to secure the supply and production for the fourth quarter of 2021. Meanwhile, we are fully dedicated to accelerating our products and technologies development and bringing the three new products based on NIO Technology Platform 2.0 to users in 2022 to lead the smart EV transformation and adoption," concluded Mr. Li. "We achieved new heights with our third quarter delivery while upholding a healthy financial performance with a 18.0% vehicle margin and a 20.3% gross margin, including the sales of regulatory credits," added Steven Wei Feng, NIO's Chief Financial Officer.
"As we broaden our user base and enter global new markets, we are determined to further expand our sales and service network and expedite the swapping and charging infrastructure deployment to better reach and serve more users worldwide."
NIO Inc. Chart (1Y)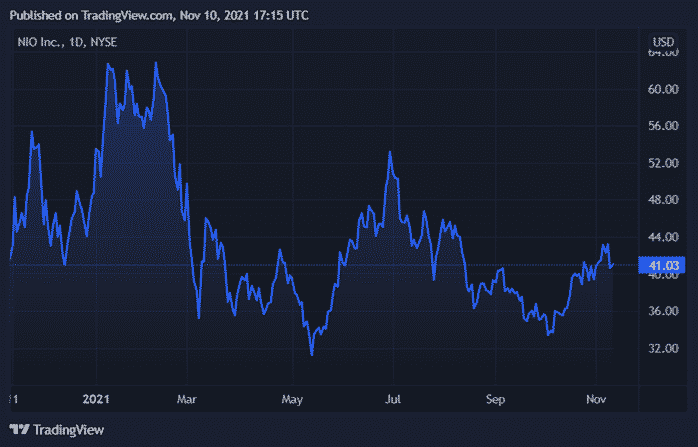 Shares of NIO fell by around 2% in the after-hours trading following the latest results. The stock is down by 0.72% in the past year at the time of writing this at $41.22 per share.
NIO is the 12th largest automaker in the world with a market cap of $67.73 billion.
You can trade NIO Inc. (NIO) and many other stocks from the NYSE, NASDAQ, HKEX and the ASX with GO Markets as a Share CFD. Click here for more information. Trading Derivatives carries a high level of risk.
Sources: NIO, TradingView, CompaniesMarketCap
Next Article
Walmart Inc. (WMT) reported its third-quarter earnings before the market open on Tuesday. The largest retailer in the world beat Wall Street analyst expectations. Total revenue was at $140.5 billion in the quarter (up by 4.3% year-over-year) vs. $135.427 billion expected. Earnings per share at $1.45 a share (up by 8.2% year-over-year) vs. $1....
Read More >
Previous Article
Beyond Meat Inc. (BYND) reported its third-quarter financial results after the closing bell on Wednesday. The plant-based company posted disappointing...
Read More >