Macy's blows past Wall Street expectations in Q3
19 November 2021
Macy's Inc. (M) posted its third-quarter results on Thursday. The US retailer which consist of three retails brands – Macy's, Bloomingdale's and Bluemercury posted better than expected results in previous quarter, sending the stock price higher.
The company reported revenue of $5.44 billion in Q3 vs. $5.199 billion expected.
Earnings per share at $1.23 a share vs. $0.31 expected.
Jeff Gennette, chairman and chief executive officer of Macy's commented on the latest results: "Our company delivered another strong quarter and exceeded our expectations on both top and bottom lines. The results were driven by the effective execution of the Polaris strategy and an improved economic environment. In the quarter, the Macy's brand added 4.4 million new customers. Consumers continue to spend, and we successfully offered a wide range of expanding merchandise assortment to meet their growing demand."
"Looking ahead to the fourth quarter, we remain a special place for holiday shopping, and our robust omnichannel ecosystem is showing resilience in the face of labor and supply chain challenges and enables us to meet customer shopping needs with speed and convenience," he added.
Macy's Inc. (M) chart (1Y)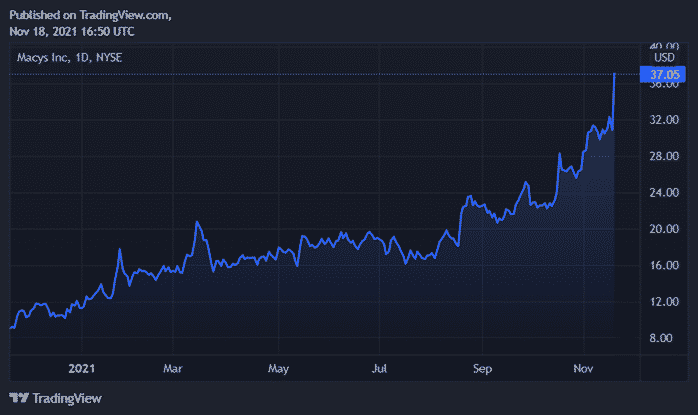 Share price of Macy's rose by 20% on Thursday following the latest results. The share price is up by 300% in the past year at $37.05 per share.
You can trade Macy's Inc. (M) and many other stocks from the NYSE, NASDAQ, HKEX and the ASX with GO Markets as a Share CFD. Click here for more information. Trading Derivatives carries a high level of risk.
Sources: Macy's, TradingView
Next Article
JD.com Inc. (JD) announced its third-quarter earnings numbers on Thursday, beating analyst estimates. The Chinese e-commerce company reported revenue of $33.91 billion in the third-quarter (up by 25.5% from the same period last year) vs. forecast of $33.345 billion. Earnings per share at $0.49 a share vs. $0.31 a share expected. Lei Xu, Pr...
Read More >
Previous Article
Alibaba Group Holding Ltd. (BABA) reported its latest financial results for the quarter ended September 30, 2021 before the market open on Thursday. T...
Read More >