NIO August delivery numbers are in
2 September 2021
NIO reported its latest delivery numbers for last month before the opening bell on Wednesday. The "Chinese Tesla" delivered a total of 5,880 vehicles in August – a 48.3% year-on-year increase.
About NIO
NIO is a Chinese car manufacturer founded in 2014 by William Li, a Chinese business executive, and entrepreneur. Its headquarters are based in Shanghai, China. It also has international offices in the United States, Germany, and the United Kingdom. It employs around 4,000 people worldwide.
August delivery numbers
The deliveries in August consisted of:
1,738 ES8s – the company's six-seater or seven-seater flagship premium smart electric SUV
2,342 ES6s – the company's five-seater high-performance premium smart electric SUV
1,800 EC6s – the company's five-seater premium smart electric coupe SUV
NIO has delivered a total of 131,408 cars as of 31st August 2021.
The company revised its delivery outlook for Q3 from 22,500 to 23,500 vehicles due to the ongoing supply chain constraints which has hit the electric car industry.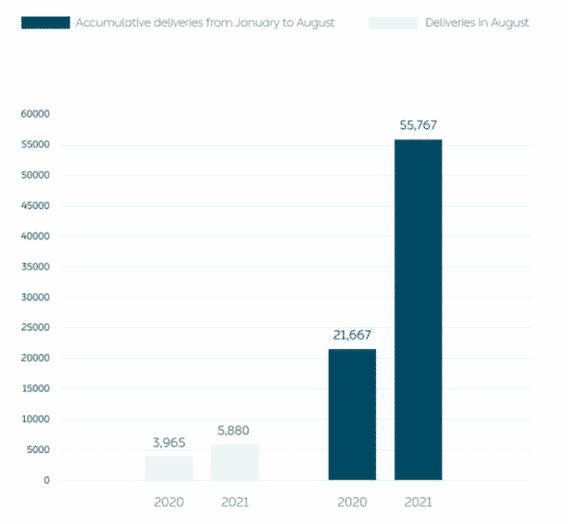 Share price of NIO was little changed during the trading day on Wednesday, trading at around $39 per share. The stock is up by around 95% in the past year.
NIO Inc. Chart (1Y)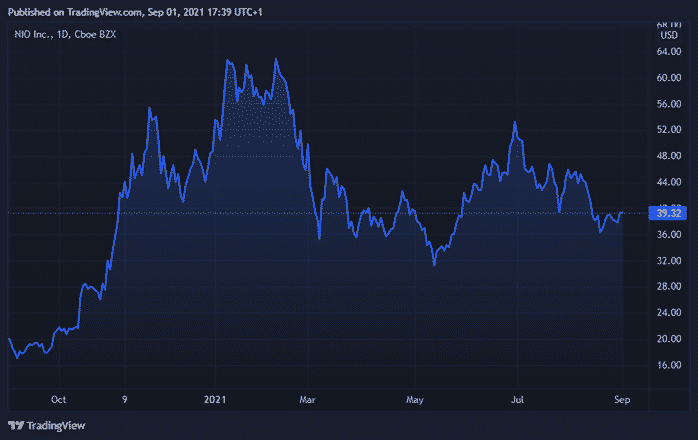 You can trade NIO Inc. (NIO) and many other stocks from the NYSE, NASDAQ, HKEX and the ASX with GO Markets as a Share CFD. Click here for more information. Trading Derivatives carries a high level of risk.
Sources: NIO, TradingView

#Economy #Economics #Finance #Markets
Next Article
It's the beginning of a new month which means that the Non-Farm Payroll figures will be released this week by the US Bureau of Labor Statistics. The latest US jobs data will be released at 1:30 PM London time on Friday. Why is the announcement important? Non-Farm Payroll is one of the most closely watched indicators. It is considered the mo...
Read More >
Previous Article
Cash stock indices such as the Dow 30, FTSE 100 and ASX 200 are made up of constituent stocks which is where their price is derived from. These con...
Read More >