NVIDIA beats expectations in Q3
19 November 2021
NVIDIA Corp. (NVDA) reported its third-quarter financial results after the closing bell on Wednesday.
The US technology company beat Wall Street expectations on both revenue and earnings per share.
NVIDIA reported a record revenue of $7.103 billion in the third-quarter (up by 50% year-over-year and 9% up from the previous quarter) vs. $6.821 billion expected.
Earnings per share at $1.17 a share (up by 60% from the same period last year and 13% up from the previous quarter)  vs. analyst estimate of $1.11 a share.
Jensen Huang, founder and CEO of the company commented on the latest results: "The third quarter was outstanding, with record revenue."
"Demand for NVIDIA AI is surging, driven by hyperscale and cloud scale-out, and broadening adoption by more than 25,000 companies. NVIDIA RTX has reinvented computer graphics with ray tracing and AI, and is the ideal upgrade for the large, growing market of gamers and creators, as well as designers and professionals building home workstations," Huang added.
NVIDIA Corp. (NVDA) chart (1Y)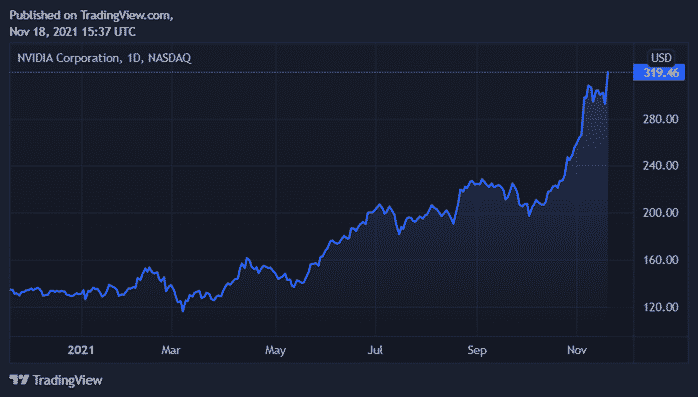 The share price of NVIDIA rose following the solid earnings report. The stock is up by 137% in the past year at $219.46 per share.
NVIDIA is the 8th largest company in the world with a total market cap of $729.18 billion.
You can trade NVIDIA Corp. (NVDA) and many other stocks from the NYSE, NASDAQ, HKEX and the ASX with GO Markets as a Share CFD. Click here for more information. Trading Derivatives carries a high level of risk.
Sources: NVIDIA, TradingView
Next Article
Alibaba Group Holding Ltd. (BABA) reported its latest financial results for the quarter ended September 30, 2021 before the market open on Thursday. The Chinese e-commerce giant posted disappointing results, falling short of analyst expectations. The company reported revenue of $31.123 billion (up by 29% year-over-year) vs. $31.658 billion expec...
Read More >
Previous Article
Walmart Inc. (WMT) reported its third-quarter earnings before the market open on Tuesday. The largest retailer in the world beat Wall Street analyst e...
Read More >