XPeng tops earnings expectations for Q2
27 August 2021
XPeng reported its Q2 financial results before the opening bell on Thursday, beating analyst expectations. Let's take a closer look at the numbers.
The company reported total revenue of $582.50 million in the second quarter, above analyst forecasts of $515.55 million. The total revenue was up by 536.7% from the same period last year and 27.5% from the previous quarter of 2021. XPeng reported a loss of $0.21 per share, analysts were expecting a loss of $0.24 per share.
The Chinese electric car maker delivered 17,398 cars in Q2, a 439% increase from the same period last year and a 44.5% increase from Q1 when the company delivered 7,974 cars.
"We delivered another record-breaking quarter with new highs recorded in several key metrics, underscoring an accelerated growth trajectory powered by our full-stack in-house technology capability," said Mr. He Xiaopeng, Chairman and CEO of XPeng.
"Notably, deliveries for the first half of 2021 exceeded the total deliveries for the full year 2020, reaching 30,738, a 459% increase year-over-year."
"As EV adoption in China and around the world begins to soar, we are excited to lead in this unprecedented disruption opportunity with our outstanding vehicles and fast, seamless iterations of new technologies that are shaping the mobility experience of the future," Mr. He added.
"Our outstanding second quarter 2021 results reflect XPeng's leadership in China's booming Smart EV industry where we continue to introduce innovative technology, differentiated products and premium services," said Dr. Hongdi Brian Gu, Honorary Vice Chairman and President of XPeng.
"Fueled by strong delivery performance, our second quarter 2021 revenues grew 536.7% compared with the same period of 2020. We also witnessed further improvement in our profitability. In particular, our gross margin continued its upward trend and reached 11.9% in the quarter," Dr. Gu concluded.
XPeng Inc. (1Y)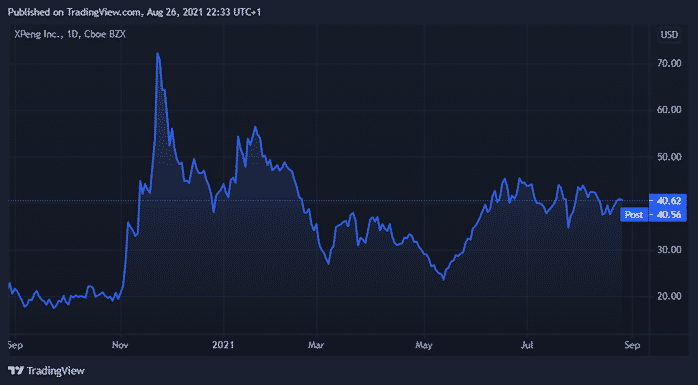 The share price of XPeng was little changed following the strong financial results, down by 0.05% at the end of the trading day on Thursday – at $40.62 per share. The stock is up by 91.42% in the past year.
You can trade XPeng Inc. (XPEV) and many other stocks from the NYSE, NASDAQ, HKEX and the ASX with GO Markets as a Share CFD. Click here for more information. Trading Derivatives carries a high level of risk.
Sources: XPeng, TradingView

#Economy #Economics #Finance #Markets
Next Article
In August equities and risk currencies dipped as fears of slowing global growth, rising Delta strain cases and tapering of loose monetary policy from central banks saw the markets switch to risk off mode. With some milder inflation figures from the US and central banks seemingly backing off imminent taper talk for now, we did see risk on return in ...
Read More >
Previous Article
Salesforce released its latest earnings numbers for Q2 after the closing bell on Wednesday. The cloud-based software company reported total revenue...
Read More >